Combined Schedules of All RoRos
Bacolod to Iloilo
12MN Montenegro BREDCO to Dumangas (updated Dec 2023)
2AM Montenegro BREDCO to Dumangas (updated Dec 2023) | 2 hrs travel time
4AM Montenegro BREDCO to Dumangas (updated Dec 2023) | 2 hrs travel time
6AM Montenegro BREDCO to Dumangas (updated Dec 2023) | 2 hrs travel time
6:00 AM FF Cruz Shipping from EB Magalona to Ajuy, Iloilo | Arrives at 07:20 AM (only on selected days)
8AM Montenegro BREDCO to Dumangas (updated Dec 2023) | 2 hrs travel time
10AM Montenegro BREDCO to Dumangas (updated Dec 2023) | 2 hrs travel time
12:00 NN FF Cruz Shipping from EB Magalona to Ajuy, Iloilo | Arrives at 13:20 (only on selected days)
12NN Montenegro BREDCO to Dumangas (updated Dec 2023) | 2 hrs travel time
2PM Montenegro BREDCO to Dumangas (updated Dec 2023) | 2 hrs travel time
3PM FastCast BREDCO to Dumangas (updated Dec 2023) | 1 hour travel time
4PM Montenegro BREDCO to Dumangas (updated Dec 2023) | 2 hrs travel time
6PM Montenegro BREDCO to Dumangas (updated Dec 2023) | 2 hrs travel time
7PM FastCast BREDCO to Dumangas (updated Dec 2023) | 1 hour travel time
8PM Montenegro BREDCO to Dumangas (updated Dec 2023) | 2 hrs travel time
10PM Montenegro BREDCO to Dumangas (updated Dec 2023) | 2 hrs travel time
Dumangas,Iloilo to Bacolod
12MN | Montenegro  | Dumangas to BREDCO (updated Dec 2023) | 2 hrs travel time
2AM | Montenegro  | Dumangas to BREDCO (updated Dec 2023) | 2 hrs travel time
6AM | Montenegro  | Dumangas to BREDCO (updated Dec 2023) | 2 hrs travel time
8AM | Montenegro  | Dumangas to BREDCO (updated Dec 2023) | 2 hrs travel time
10AM | Montenegro  | Dumangas to BREDCO (updated Dec 2023) | 2 hrs travel time
12NN FastCast Dumangas to BREDCO (updated Dec 2023) | 1 hour travel time
12NN | Montenegro  | Dumangas to BREDCO (updated Dec 2023) | 2 hrs travel time
2PM | Montenegro  | Dumangas to BREDCO (updated Dec 2023) | 2 hrs travel time
4PM | Montenegro  | Dumangas to BREDCO (updated Dec 2023) | 2 hrs travel time
5PM FastCast Dumangas to BREDCO (updated Dec 2023) | 1 hour travel time
6PM | Montenegro  | Dumangas to BREDCO (updated Dec 2023) | 2 hrs travel time
8PM | Montenegro  | Dumangas to BREDCO (updated Dec 2023) | 2 hrs travel time
10PM | Montenegro  | Dumangas to BREDCO (updated Dec 2023) | 2 hrs travel time
Tip: If you are going to Boracay via commute, you may go to a Ceres Terminal and buy a ticket going to "Cubao Manila" via Caticlan. The bus will directly stop in front of Jetty Port in Caticlan. I rode a 6PM roro and found this bus going to Cubao. I was able to ride but in standing/open ticket status. So it's better to book, and get a dedicated seat from the Ceres Terminal.
Bringing your car or motorcycle to Bacolod/Negros or Iloilo? Or cheaper ways to cross the Guimaras Strait? This is the  guide for RoRo vessels from Bacolod to Iloilo. This post contains roro schedules, fares,  online booking options, tips how to onboard roro, contact numbers and reservation policies.
Bacolod and Iloilo are twin cities. We think we are separated by the sea, but it actually in connects us. I can help our lands stay connected.
RoRos are ships designed to carry vehicles such as motorcycles, trucks and four wheeled cars. Also cheaper options for passengers, usually fare is 60% to 80% lower. Roro travel time is 2 hours, while fastcrafts are 1.5 hours as of Dec 2019.
Ways to cross Negros and Panay
All RoRos (except Fast Cat) are from BREDCO to Dumangas and Vice Versa
FastCat RoRo is from Bacolod Banago Pier (One trip is to BREDCO now – March 2022) to Iloilo City Ferry Terminal
All fastcrafts (BREDCO to Iloilo City and Vice Versa)
If you wanna bring a car, so you can go directly to your destination in another island at your own pace, at your own time.
Missed the last trip of the fast craft in Iloilo City or Bacolod? Worry not, choose RoRo! (But consider your arrival points)
If you wanna transport bulk or truck-load of goods.
Cheaper way of crossing the Guimaras Strait. (But consider your arrival point)
Terminal fees are the sum of money that you pay for the maintenance of the ports. Note that BREDCO in Bacolod is private-owned. Dumangas Iloilo and Ilo city ports are public-owned or GOCC-owned, hence cheaper.
Dumangas RoRo Terminal Fee
Motorcycle/Trike: 65php
4 wheels: 129php
6 wheels: 258
8 wheels: 516 php
Passenger only: P30
The following are exempted to pay the terminal fee in Dumangas:
Students
Senior Citizens
PWD
Selected AFP Personnel
Please present your ID.
Bacolod's BREDCO fees
Paid at the exit upon arrival in Bacolod
2 wheels: 50php
3 w: 70php
4 w: 188php
6 w: 372php
8 w: 410
10 w: 430
20 footer: 617
30 ftr: 756
40 ftr: 855
Tristar has the most numerous trips so far. However, her arrival point in Iloilo is in Dumangas, Iloilo Province, not in the city. If you're commuting, you can still take a trike to Dumangas town and get a van or jeep.
If you're bringing your own car, I recommend taking the iloilo coastal road to the city. But be careful in coastal road because this is prone to accidents especially at night. There are areas where you will pass by salt beds and some roads don't have barriers. You don't want to swim into the salty mud! (Also, do not merely rely on the autoroutes given by Map apps! I almost got lost once in the middle of forests of the Panay island lol)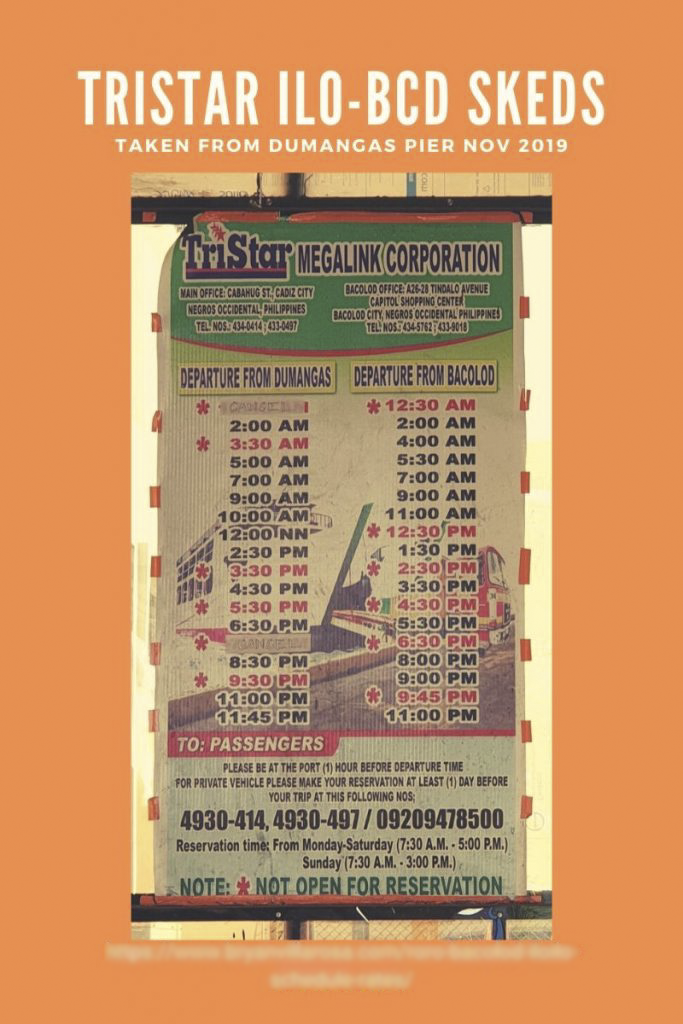 Tip
The best seats for open air is not near the comfort rooms (because of foul smell at times) and not near the sides of the ship (because of the harmful rays of the sun).
TriStar Rates effective March 30, 2022
Passenger Rates

Adult: 80php
Children: 40php
Student: 60php
Senior Citizen: 55php

Truck Rates

4 wheeler pickup

Empty: 1,000
Loaded: 1,400

4 wheeler light vehicle: 1,400 php
4 wheeler truck
6 wheeler short chassis
6 wheeler canter/eleft
6 wheeler forward/fighter
6 wheeler super long
10 wheeler
TPM 20 footers
TPM 40 footers
Tractor Head: 2,700
Motorcycle: 350
Motorcycle Bigbike: 650
Tricycle:
Contact numbers and reservation policy
For reservations, call:

(034) 4930-414
0920-947-8500
(034) 4930-497

Reserve at least one day before scheduled trip

STRICTLY: Reservations will not be accepted on the day of the trip at the port

Tristar Policy Actual Reference

Reservation Times

Mondays to Saturdays: 7:30am to 5:00pm
Sundays: 7:30am to 3:00pm
Montenegro RoRo Schedules (taken Dec 1, 2023)
Bacolod to Dumangas (departure times)
12mn 
2am
4am
6am
8am
10am
12nn
2pm
4pm
6pm
8pm
10pm
Montenegro RoRo Schedules (taken Dec 1, 2023)
Dumangas to Bacolod (departure times)
12mn 
2am
4am
6am
8am
10am
12nn
2pm
4pm
6pm
8pm
10pm
Contact numbers and reservation policy
Contact numbers:

(034) 704-2322
0920-969-5122

NO ADVANCED BOOKING

First Come-First Served Policy
Tickets are issued 1 hour before
Tip
The best seats for open air is not near the comfort rooms (because of foul smell at times) and not near the sides of the ship (because of the harmful rays of the sun).
Millenium Lakbay Uno RoRo (DAILY Schedule)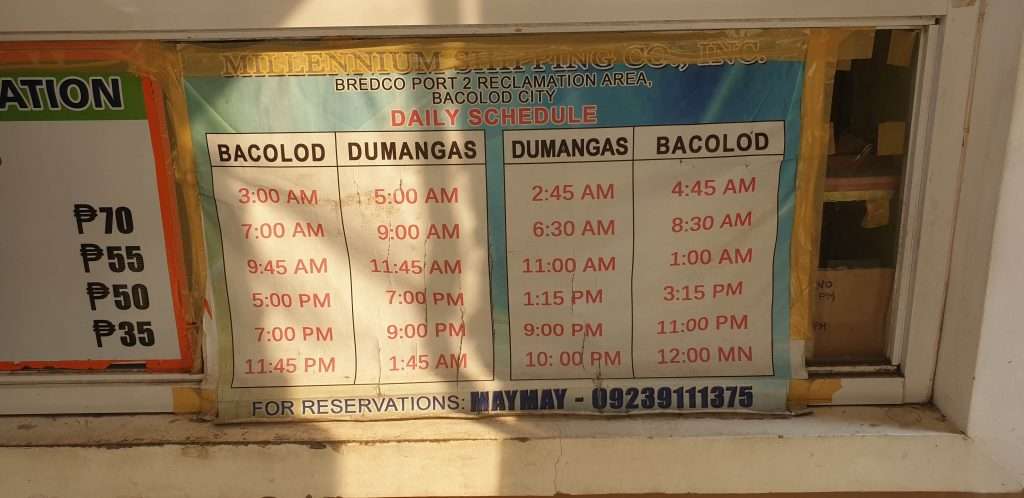 Contact numbers and reservation policy:
Telephone number: (034) 433-9360

RESERVATIONS ALLOWED: For reservations, contact:

May-may: 0920-969-5122
Vessel: 09228231420

Fast Cat is the most sosyal roro so far. She's clean, posh, modern, innovative, and trailblazing. Her design was inspired by the catamaran vessels which was apt for tropical climates. 
Before, Fast Cat was my plan B if I missed the last trip in Iloilo because her departure point is the same as the fast craft's. But because of the pandemic, her schedule decreased. Let's hope it is revived soon. 
Bacolod to Dumangas,Iloilo
1:00AM FastCat FCM16 | Arrives at Dumangas at 02:00AM
6:00AM FastCat FCM16 | Arrives at Dumangas at 07:00AM
8:00AM FastCat FCM3 | Arrives at Dumangas at 09:00AM
10:00AM FastCat FCM16 | Arrives at Dumangas at 11:00AM
12:00NN FastCat FCM3 | Arrives at Dumangas at 01:00PM
3:00PM FastCat FCM16 | Arrives at Dumangas at 04:00PM
Dumangas,Iloilo to Bacolod
04:00AM FastCat FCM16 | Arrives at Bacolod at 05:00AM
6:00AM FastCat FCM13 | Arrives at Bacolod at 07:00AM
8:00AM FastCat FCM16 | Arrives at Bacolod at 09:00AM
10:00AM FastCat FCM3 | Arrives at Bacolod at 11:00AM
12:00NN FastCat FCM16 | Arrives at Bacolod at 01:00PM
05:00PM FastCat FCM16 | Arrives at Bacolod at 06:00PM
Main office: (632) 8842-9341
Dumangas: 0906-2261149 | 0969-1010597
Iloilo: 0961-7926-198
Bacolod: 0963-6175-097 | 0977-7156-239 | 0905-3476-025
NEW ROUTE: EB MAG - AJUY MARCH 2022
A new way to reduce travel time from North Negros to Northern Panay and vice versa. This is an ideal route if your businesses are Northern Negros and Northern Panay. This also opens up tourism to places like Boracay, Sicogon Island, Isla Gigantes, Lakawon in Cadiz, etc. The more options for transportation, the happier we will be. 
However, from their FB page, the management said: Hello, we just opened eb mag and bay ang ports . However, we purposedly delayed deployment because of the tremendous fuel price hikes , our revised rates are still on process Once approved we shall deploy vessel initially on a twice a week schedules.partuclarly every wednesdays and Thursdays..Thank u.
Ship name: FF Cruz Shipping
Type: "RoRo"
Travel time: 1:20 minutes
Location in Negros: Brgy. Manta-angan, EB Magalona municipality
Departure from Negros, fare prices: 10AM, Twice a week (to be confirmed by the management after fuel price hike adjustments)
Location in Iloilo: Bay-ang Port, Ajuy, Iloilo
Departure from Ajuy, fare prices: 3PM, Twice a week (to be confirmed by the management after fuel price hike adjustments)
Distance from Bacolod: 28 kilometers)
Servicing: Northern Panay and Northern Negros logistics
BANAGO to LAPUZ, ILOILO CITY
Note: Banago Wharf, Barangay Banago, Bacolod City is 4.8km away from the SM City Bacolod, 3.8 km to Robinsons Place Bacolod, 5.8km to Ceres South Terminal and 2.1km to Ceres Northbound (Pertoda) Terminal.
If you are from Bacolod docking to Lapuz, Iloilo City, it is just ~2km from the downtown/centra area of Iloilo City such as Atrium Commercial Center.
AS OF SEPT 2019, Fastcat 2AM TRIP FROM ILO was DISCONTINUED
DUMANGAS to BREDCO and VICE VERSA Route
Red Arrow = Land trip from Dumangas Pier to Iloilo City
Note: RoRo will dock at Dumangas, Iloilo Province which is 23.5km away from the city proper. 
If you are from Iloilo docking at BREDCO Bacolod, it is only ~5 minutes from SM Bacolod City Proper / Downtown area. 
How to Onboard Your Vehicle to RoRo
Present OR/CR and Drivers License (Photocopy or Xerox)
CoastGuard will provide stub
Present OR/CR only
If you have PWD/ Student / Senior Citizen ID, please present them for Discount
Present WayBill 
Provide P129.00 for PPA Stub
Actual Reference from Pier
How to Load Your Car to RoRo

Below are my practical first-hand experience in how to load car to RoRo. 
Head to BREDCO or Dumangas Pier. If you're from Iloilo, I suggest take the coastal road so you travel faster. It's a good highway. 
Pay Terminal Fee at the Security Guard.


I thought I have to meet the coast guard first but both Bacolod and Iloilo no longer requires.
At Dumangas, after guard, turn right and go down. You have to pay at a container van office for the terminal fee. 
At BREDCO, you'll just pay at the security guard at the entrance (across 711 or Bongbongs). You don't have to leave car, just pay by opening your window. 
I noticed BREDCO has higher fees compared to Iloilo
There's a "landing fee" in BREDCO. (You pay when you're from Iloilo)

Proceed in front of your chosen RoRo. Park your car along the road markings.

Don't park, and leave your car and wait inside the terminal building. 
Wait on your car while your AC is running. This way, you enlist first.

Look for the person who lists the cars when the RoRo arrives. They're usually holding a paper board, have sunglasses (if day time) and cap.  
Once he goes down, it will get crazy random. Other passengers will rush to him too. Be gentleman but firm. Approach him and say, "Boss, pa lista ko." Point your car and have him list your plate number. Wait for your car  plate number to be called. Or, you can open your window and constantly stare at him in the eyes until he does a hand gesture for you to come.
If you have reserved, confirm from the man. Then wait to be called. 
Load your car by running on reverse. Four or five people will assist you in. Usually they put the long trucks first. Then the 4 wheelers.
After your car settles on the boat, wait for the man to bill you. Pay and get the receipt. Some may pay while at the passenger area. Go up to the seaman control deck and ask where to pay.
Keep your receipt and go up to the passenger area. Usually a part is non-aircon, sea-viewing deck and aircon area. 
Some passengers stay inside their car, turn the engine on and turn the AC on for 1 to 2 hours while chatting.

The downside of reserving is you may not know if an earlier RoRo arrives compared to your trip.

I met someone who arrived at 3:20 but he actually reserved at 4:30. A boat came at 3:30 which is not in the sked. The lister knows he's at 4:30 and said, "just wait if you can still onboard"
Sadly, I was the last one to onboard and he had no more space. He had to wait for another hour. 
So, you can reserve, but you can also be a chance passenger if you arrive earlier. 
But if you arrive late, I think your reservation is forfeited. You must wait manually.
I suggest reserve or buy advanced ticket during peak season to ensure you don't wait for many hours. 
Scroll down below to see each of their reservation policy and contacts
Satellite Map of the BREDCO RoRo Area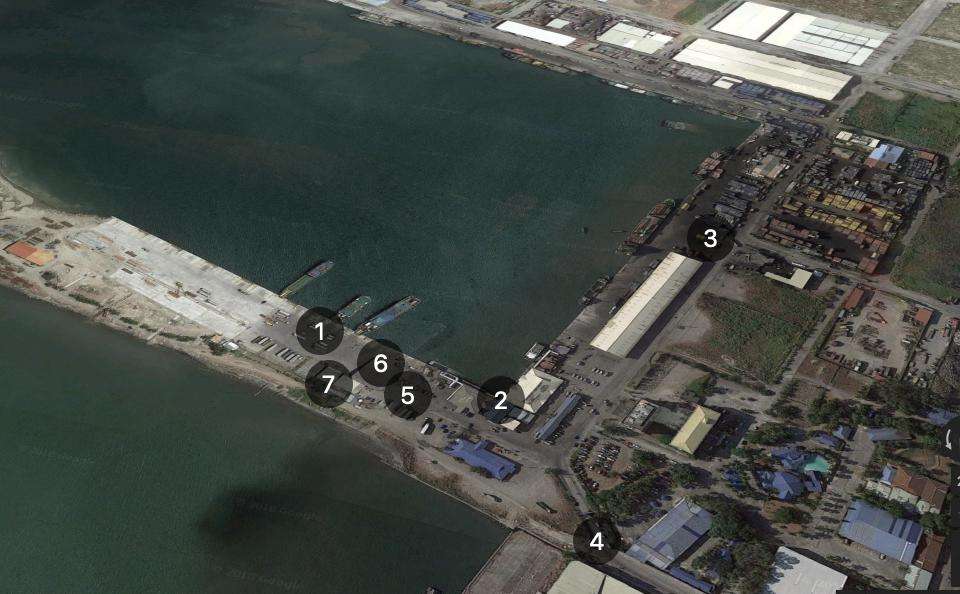 RoRo Dock and Departure Area (to Dumangas)
Old Fast Craft Area (Demolished on January 2019)
Integrated SeaPort Terminal – where Weesam, OceanJet, SuperCat and 2Go to Manila Passengers converge (started December 2018).
Entrance and Exit to BREDCO Terminal (Vehicle pass ticket is P12.00)
BREDCO Terminal Fee Gates
CoastGuard Area where you pay and Montenegro RoRo Area and Tristar RoRo Area
RoRo Company Area (Millenium)
📞 Contact Numbers and Reservation Policy
May Byahe o Wala? Storm Signal Alerts
Due to cases of stranded passengers, I am putting here the contact numbers of Bacolod City Coast Guard so you can call them to confirm whether there are trips or not. Scroll down to the Contact Section at the bottom to see the contact numbers of Coast Guard and PAGASA.
Dumangas Terminal Authority (Jenesis Allied Services, Inc.)
Address: Tabucan, Manduriao, Iloilo City
Tel. No. (033-321-0444)
Hotlines

Task Force Puerto: 885-2558
Balabag Compac: 885-2559
Bantud Fabrica: 885-2560
Is your priority more on saving money? I've compiled this list of cheap but comfortable hotels in Bacolod. You don't want cheap but dirty. You don't want cheap but unsafe. So it's better to research and read reviews first. You can't see some of these in online bookings. If you're looking for standard hotels, see them here.
Bomb Joke or False Bomb Threat is a violation of P.D. 1727 with 5 years imprisonment, P40k fine or both. 
Contact Numbers for Storm Alerts or Cancellations
Bacolod Coast Guard (Banago)
0917-8428456
0998-5858210
cgsbacolod@coastguard.gov.ph
Bacolod Coast Guard (BREDCO / Reclamation Area)
0917-8428434
0998-5858209
bredco@yahoo.com 
Pulupandan Coast Guard
PAGASA Weather Station (DOST) 
Negros Occidental Office: (034) 707-0170
Iloilo Office: (033) 508-7183
Trunkline: (033) 320-0093 local 105
How to Prepare when there is a Coming Storm
How to prepare and stay safe
Turn on your TV/radio.

You'll get the latest weather updates and emergency instructions from PAGASA.

Prepare or restock your emergency supply kit.

Include a charged cell phone, flashlights, batteries, matches, candles, fuel, food, and first aid supplies.

Move important household items to the highest possible location.

This will help protect them from flood damage.

 

During

Avoid walking or driving through flood waters.

Just 15 cm of moving water can knock you down and half a meter of water can sweep your vehicle away.

Close storm shutters if possible and stay away from windows.

Flying glass from broken windows could injure you.
What is a Public Storm Warning Signal #1?
At Public Storm Warning Signal #1, winds of 30-60 kph may be expected in at least 36 hours.
Sea conditions (open sea): Wave heights of 1.25-4 meters
Damage to structures:
Very light or no damage to high-risk structures
Light damage to medium- and low-risk structures
Slight damage to some houses of very light materials or makeshift structures in exposed communities
Damage to vegetation:
Some banana plants are tilted and a few may be downed; leavers are generally damaged
Twigs of small trees may be broken
Rice crops may suffer significant damage when they are in the flowering stage
Source: Google.org
Also see: Bacolod City Guide: History, Local Spots and Itineraries
So those were the relevant information that you would need when you cross the sea to or from Bacolod City.  
Hopefully, after you scanned or read these Bacolod – Iloilo RoRo information, you will have a well-informed journey ahead. 
Do you have anything to ask or suggest? 
Just comment below and have a grace-filled journey!