Malipayon nga pag-abot sa Siudad sang Sagay! Welcome to Sagay City!
Our fast-growing city is on its way in fulfilling its goal towards sustainable progress and has taken by heart its advocacy on environmental protection and conservation programs to preserve its natural heritage as a legacy to the next generation.
We are blessed with dedicated leaders and people united and inspired to work together in building a peaceful, resilient and dynamic city.
Sagay City has embraced its new eco-tourism branding , "Sagay City: Where love for nature begins," as we invite tourists to come and be awed with nature and have a life-changing experience. It has also become a preferred "Lakbay Aral" site for many LGUs and students due to its projects which are worth learning and emulating.
As we gradually implement our Sustainable Tourism Master Plan, we have established our first eco-tourism loop: Museo Sang Bata Sa Negros, Suyac Island Mangrove Eco-Park and Carbin Reef. We have also organized the community-based ecotourism stakeholders to become entrepreneurs, affording them opportunity to wealth generation and to become protectors of the environment as well.
The Himoga-an Eco-Cultural Loop and Vito Molocaboc Eco-Cultural Loop are now in the pipeline. These will provide more options and enjoyable learning experience in the coming years.
For LGUs scouting for "lakbay-aral" destinations, for prospective investors, students and tourists, make it Sagay City! Our projects are solid testimony of a strong political will showcasing worth while government programs geared towards progress and development. We have government projects conducive and ready for trade, commerce and industry while the whole city is generally peaceful and our people are enthusiastic and anticipating new investors.
Let this brochure serve as your guide to Sagay City!
By 2020, the center for sustainable, industrial, cultural, and eco-tourism development in Negros.
We Sagaynons, commit ourselves to :
Strengthen our unity as expressed in our family-oriented communities; 

Deliver basic services such as quality, education, health, sports, culture and decent

living and infrastructure such as farm to market roads; 

Protect and "responsibly" harness our God-given natural resources and; 

Provide equal access to livelihood and employment opportunities.
Brief History Of Sagay City
Sagay City is one of the major fishing coastal communities in the province of Negros Occidental, Philippines. 
Man's wanton abuse of Sagay's marine environment resulted in a massive destruction of coral reefs and other marine habitats in the area. In the late 1970's, the then municipal mayor and now Governor of Negros Occidental Alfredo G. Marañon, Jr. initiated action for the conservation and management of the dying coral reefs with the help and technical expertise of Silliman University Marine Laboratory then headed by Dr. Angel Alcala. Early in the 1980s, a marine sanctuary was established in Carbin Reef which was Proclaimed as a protected area through a municipal ordinance and was extended to Panal, Maca and the fringing reefs of Molocaboc Islands. 
In 1995, the passage of Presidential Proclamation 592 declaring approximately 32,000 hectares of Sagay's territorial water as protected seascape under the National Integrated Protected Areas System (NIPAS) Act institutionalized the protection efforts. Another legislation providing for stricter enforcement of the law at the protected area was authored by then Congressman Alfredo G. Marañon, Jr. and passed by Congress as Republic Act No. 9106, "An Act for the Establishment and Management of Sagay Marine Reserve, defining its Scope, coverage and for other purposes" which was subsequently signed into law in April 14, 2001. 
Sagay Marine Reserve is being managed by a Protected Area Management Board (PAMB).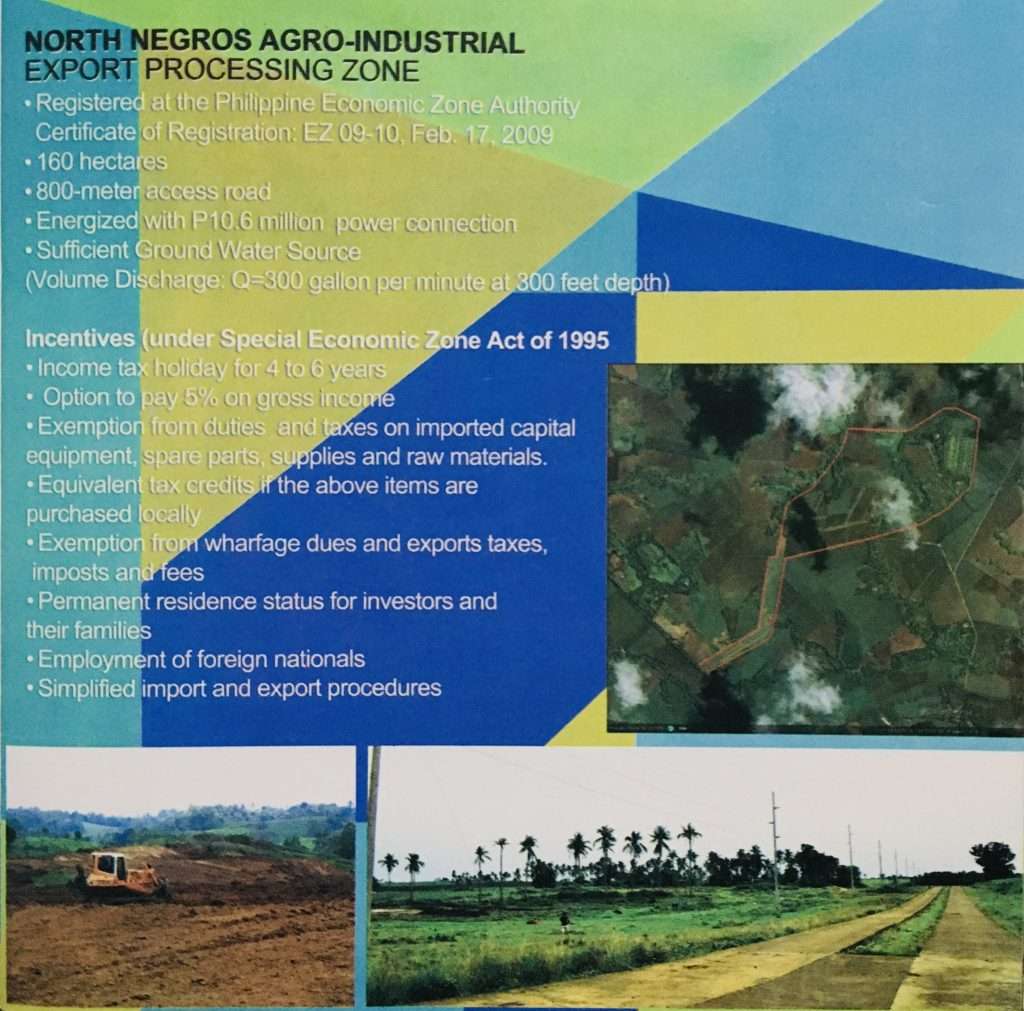 North Negros Agro-Industrial Export Processing Zone
Registered at the Philippine Economic Zone Authority Certificate of Registration: EZ 09-10, Feb.17,2009

160 hectares 

800-meter access road

Energized with P10.6 million power connection 

Sufficient Ground Water Source (Volume Discharge: Q=300 gallon per minute at 300 feet depth)
Incentives (under Special Economic Zone Act of 1995 
Income tax holiday for 4 to 6 years 

Option to pay 5% on gross income 

Exemption from duties and taxes on imported capital equipment, spare parts, supplies and raw materials. 

Equivalent tax credits if the above items are purchased locally 

Exemption from wharfage dues and exports taxes, imposts and fees 

Permanent residence status for investors and their families 

Employment of foreign nationals 

Simplified import and export procedures
Museo Sang Bata Sa Negros
This interesting whale-shaped building located at Brgy. Old Sagay facing the 32,000-hectare protected seascape, Sagay Marine Reserve, is the first hands-on and children's interactive museum outside Metro Manila aimed to promote the love of the sea. The exhibit at the first floor focuses on the marine environment with emphasis on the importance of the marine ecosystem and its threats.
It also has an exhibit on international folk arts and toys, Philippine crafts, health exhibit on smoking and values education. It also houses the Joseph Galicia Marañon Library, a collection of books and memorabilia of the late Governor Joseph G. Marañon. Among its programs are: Marine Biodiversity Conservation and Climate Change Education Program, Sponsor a Museum visit, Junior Museum Guide, Adlaw sang Kabataan, Marine Camp for kids, Art and Recycling workshop, interactive storytelling, Elementary Science Teachers Training among others.
The museum is being managed by the Museo sang Bata sa Negros Foundation. It is strongly recommended to stop over here before going to other nature-based destinations.
Suyac Island Mangrove Eco Park
Suyac Island Mangrove Eco-park is the first fully-community based eco-tourism project in line with the city's thrust on sustainable tourism development. This site is the home of one of the oldest and biggest mangroves particularly sonnertia alba or commonly known as pagatpat specie in Negros Occidental. Best to visit is during high tide where you can enjoy swimming and mangrove paddling.
The community also offers the freshest seafoods with their Suyac kinilaw among others. This eco-tourism project is a pro-environment, pro-community anchored on our guiding principle "tourism enriches, protects and helps build communities." It is being managed by the community – Suyac Island Eco Tourism Association (SIETAS).
A social marketing pride campaign was launched in 2013 in the island and continues to promote biodiversity conservation programs in the community. Portion of the proceeds help fund community and environmental activities.
Carbin Reef is a 200-hectare marine sanctuary inside the 32,000-hectare protected seascape with its huge, tongue-shaped creamy white sandbar. Its clear water offers the freshest option for swimming, snorkeling and picnic or just frolicking in the sand. The sandbar is shaped by the wind and the current and it differs each year.
To enjoy the amazing underwater, you may avail of the Buhay Dagat snorkeling package. Guests are briefed of the protected area rules and regulations in line with the sustainable and responsible tourism thrust of the City Government of Sagay. Prior booking is recommended as carrying capacity is only 100 persons.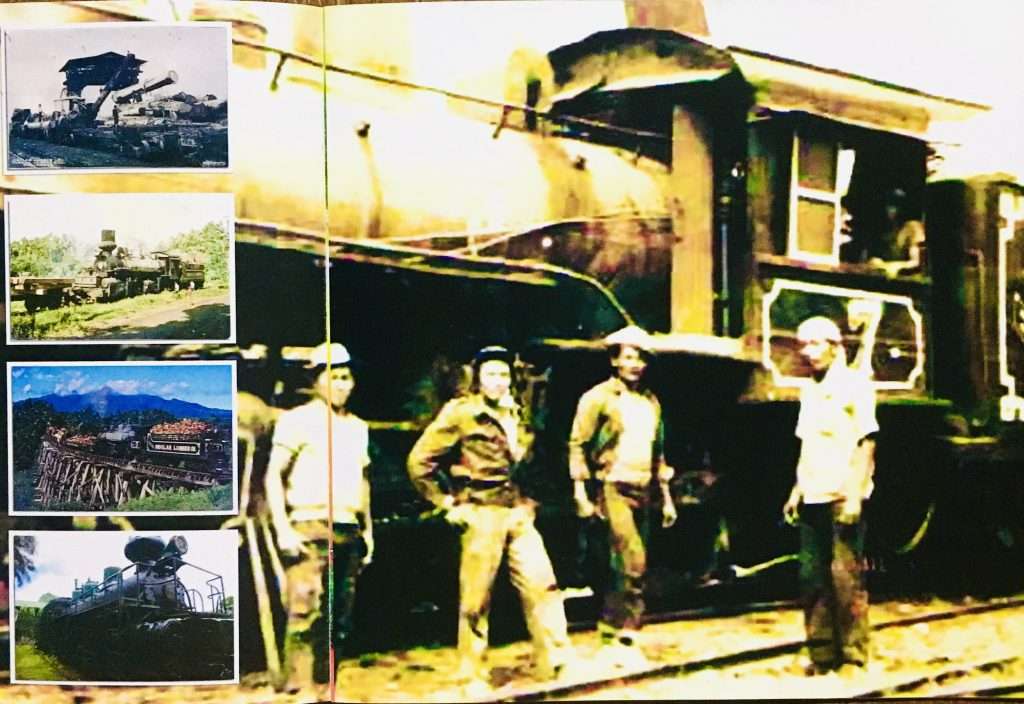 This steam locomotive was considered as the "world's most incredible steam survivor" and described it as a 'portrait of a dinosaur by Colin Garratt, author of the book, Iron Dinosaurs published in 1976. Insular Lumber Company Train No. 7 was fondly called as "Siete ".
It was the main workhorse carrying logs and lumber during the heydey of the Insular Lumber Company in the 1900s. 'Siete' is a 3 feet, 6 inches gauge 4-cylinder compound o-6-6-0 mallet that was built in 1925 by Locomotive Baldwin Works in Philadelphia, U.S.A. It was donated by Mr. & Mrs. Edgar and Sonia Sarrosa to the City. Siete now stands majestically at the city public plaza, attracting every tourist and passerby.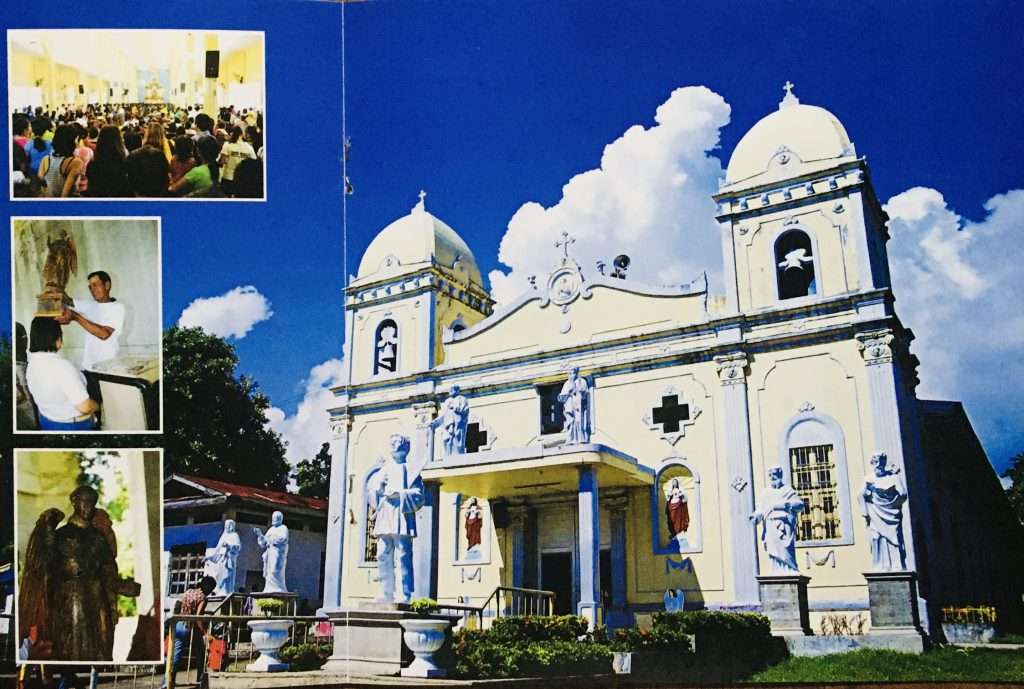 This church is a pilgrims place and one of the historical landmarks of the City. It was established by the Recollect friars in 1860. The faithful flock to the church every friday in fulfillment of their "panaad" or promise to the patron saint. "Palapak", a religious ritual placing San Vicente Ferrer's more than a century-old wooden image on different parts of the body with ailments for healing has been practiced for many years. Answered prayers and miraculous healing have been attributed by the faithful to their vow of devotion to the patron saint. Pana-ad kang San Vicente Ferrer is celebrated every first week of May.
Iida Farm is a four-hectare property located in Brgy. Luna, Sagay City, Negros Occidental. Planted with different fruit-bearing trees, Bignay, Mango, Calamansi, Coconut and Banaba. Turmeric, Ginger and Lemongrass are also inter-cropped in between mango trees.
All crops are grown using natural farming methods. Harvested fruits and crops are processed into different products sold in the market.
Turmeric (Curcuma longa) a rhizome popularly known to have antioxidant, anti-inflammatory, anti-fungal properties, aids digestion, reduces risk of cancer.
Balay Kauswagan which means "house of progress" is Sagay City's major accommodation center owned and managed by the City Government of Sagay. The center is a convenient venue for seminars, skills trainings, exhibits, trade fairs and social gatherings such as birth days, weddings and other special occasions. It has also a kiddie and a mini-olympic size pools. It is also showcases Sagay's key attractions like the marine sanctuary, its beautiful flora and fauna, food and handicrafts through paintings and art objects that decorate the center.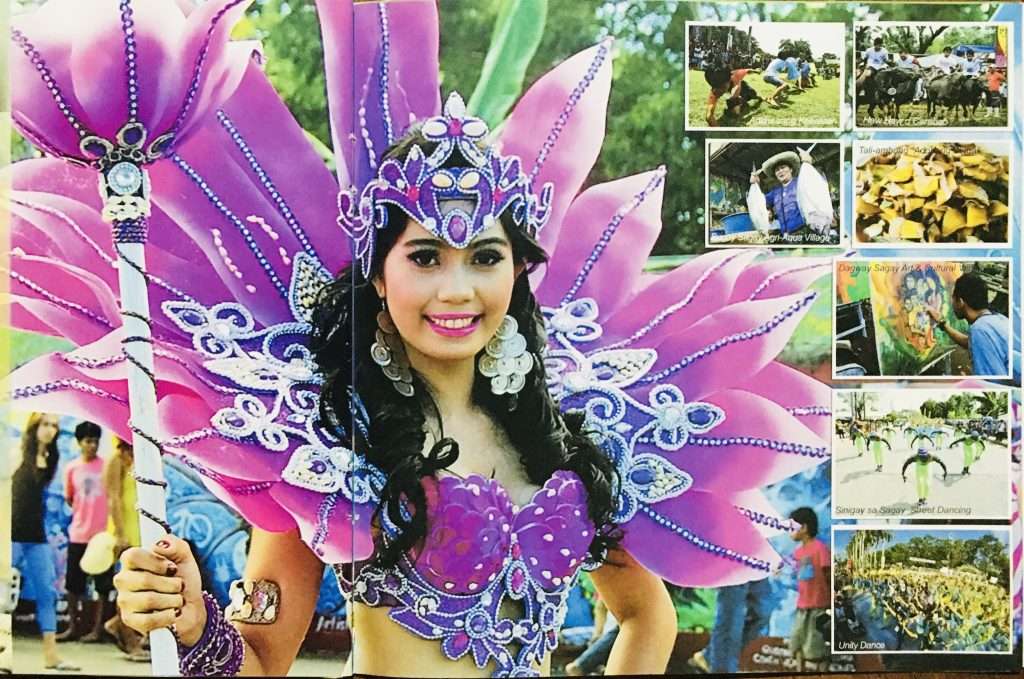 SINIGAYAN FESTIVAL is Sagay City's way of preserving the heritage of her people: the gentle, joyful and hardworking Sagaynon whose name God chose to be symbolized by the humble spherical-shell "sigay" which dances as it allows the roaring of the waves to toss it to shore and pulls it back to the sea in merrymaking.
Historically, Sagay derived her name from a semi-spherical shell, "sigay" which abounds in many islets and shores in the City, The abundant marine life resources continued to provide to this day sustainable economic benefits to her people.
This festival has four villages, Taliambong Food and Entertainment Festival Village, Bugay-Sagay Agro-Aqua Festival Village, Dagway Sagay Arts & Culture Village and Livestock and Live Animals Exhibit which showcase the best of Sagay. It also has various activities that will entertain, provide avenues for participation, appreciate our culture that is uniquely Sagay and reflects Sagaynons love for the environment. The festival highlights the Sinigay sa Sagay Mardigras festival dance and ends the day with a unity dance for the environment.
(A week celebration which highlights every March 19)
Adlaw sa Suba which means "Day in the River" is an event dedicated to promoting the love and appreciation for the precious Himoga-an River, It features locally conceptualized sports relay with various community contests, walk for a cause, tree planting and growing activities, river-cleanup, release of tilapia fingerlings among others. In 2014 it launched the campaign 364+ aimed to promote the protection of the river through-out the year. The event is nationally recognized having heralded as champion for the last three years in the ATOP-DOT Pearl Tourism Best Practices Award. Thousands of volunteers from various sectors participated in this event. (2nd Week of June)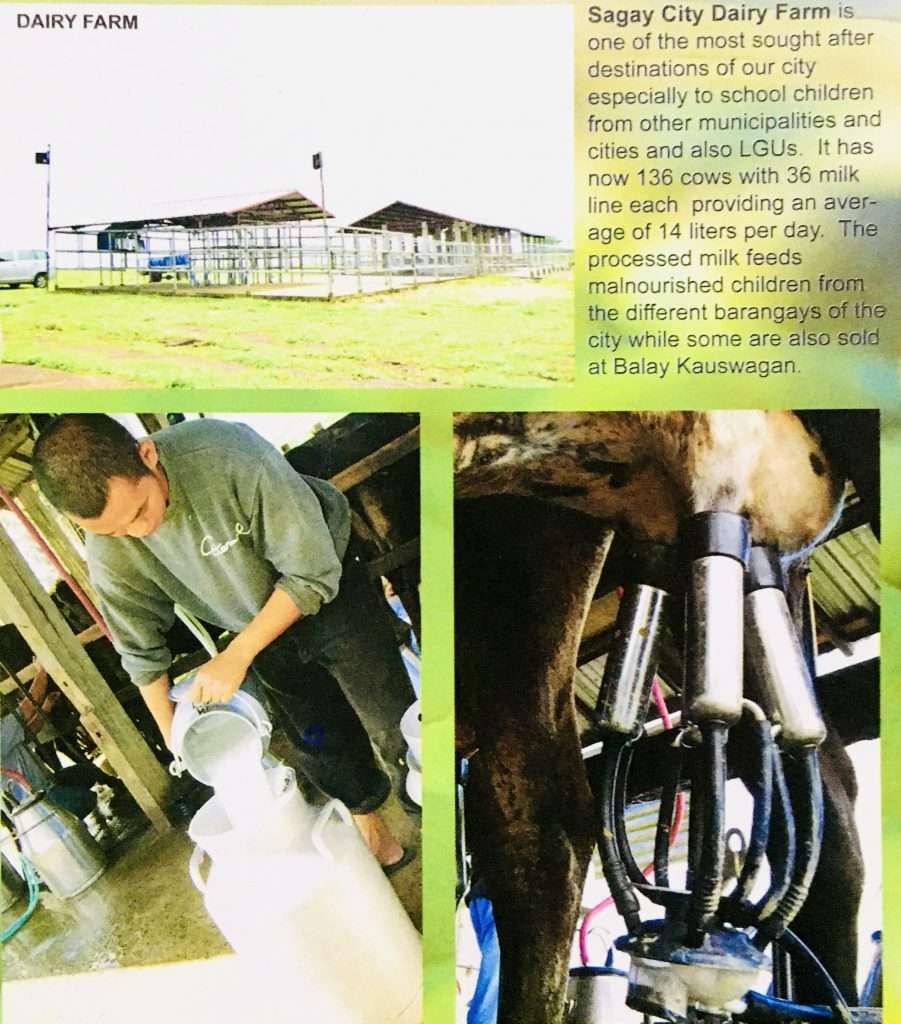 Sagay City Dairy Farm is one of the most sought after destinations of our city especially to school children from other municipalities and cities and also LGUs. It has now 136 COws with 36 milk lines each providing an average of 14 liters per day. The processed milk feeds malnourished children from the different barangays of the city while some are also sold at Balay Kauswagan.
JICA Material Recovery Facility
Sagay City Material Recovery Facility is located in Barangay Rizal. It is a joint project of Japan International Cooperation Agency (JICA) and Sagay City LGU. It has facilities to process bio-degradable and non-biodegradable waste materials. Biodegradable wastes are being shredded and used as fertilizer by the different barangays. Non-biodegradable materials are being made into recycled products for sale.
Sagay City Waste Disposal Facility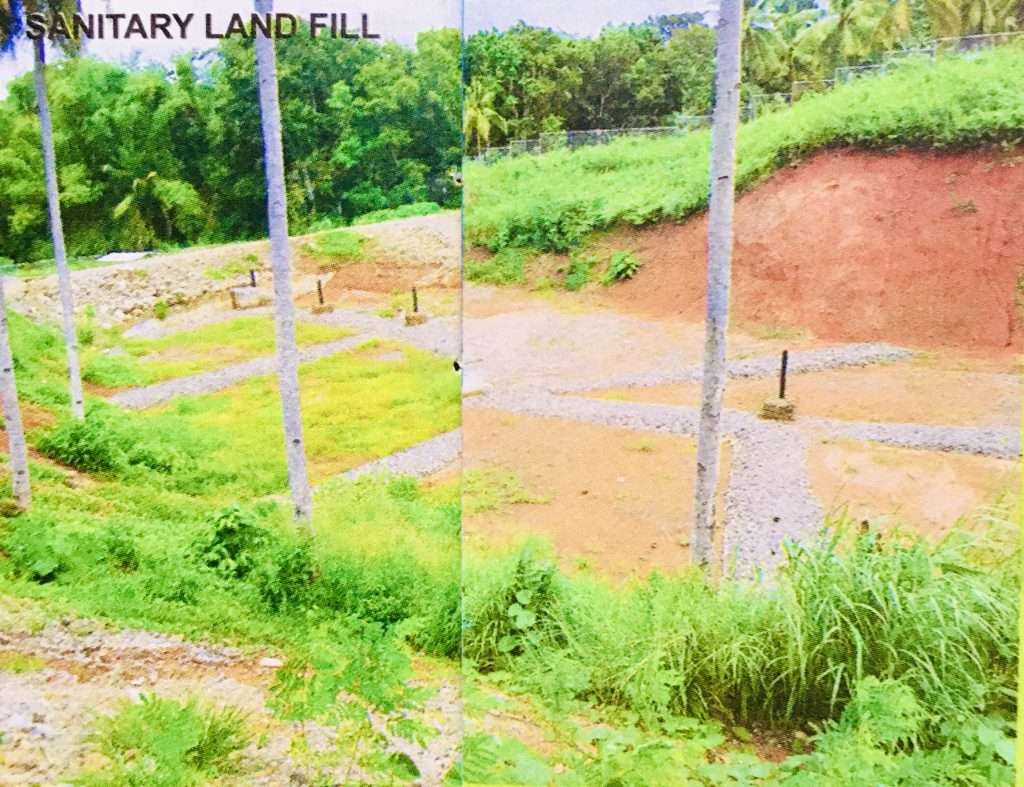 A two-hectare sanitary landfill assisted by JICA at Irgy. Paraiso is a milestone endeavor in line with the Solid Waste Management Program of Sagay City. This facility conforms to the required establishment and operating criteria prescribed by RA 903.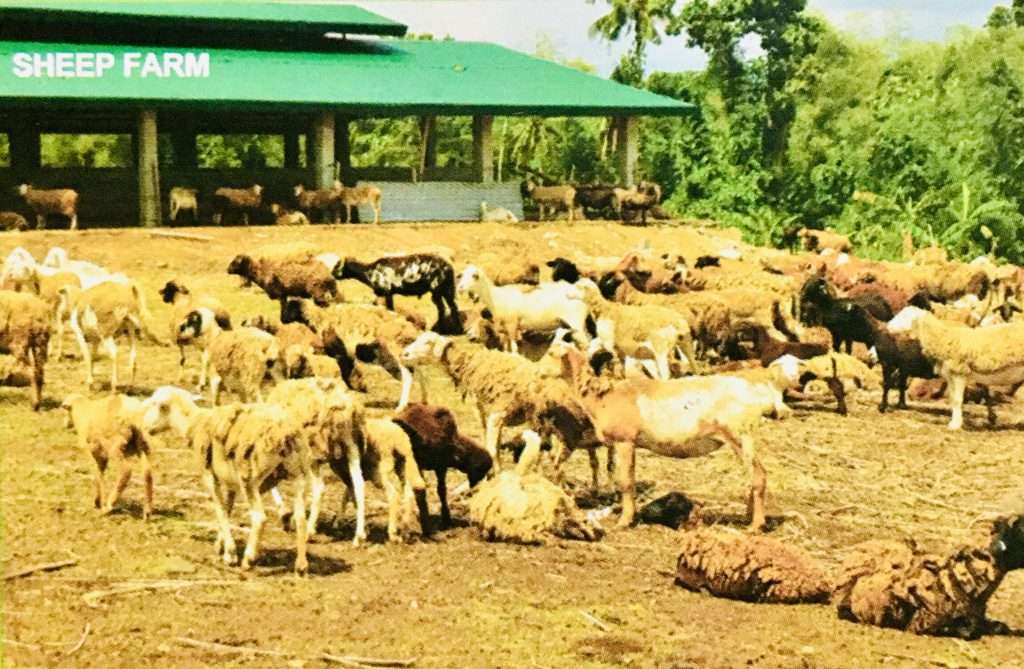 Sagay City Sheep Farm is located at Sitio Ricky, Brgy. Paraiso. We have a total sheep population of 453 heads at the farm from the Province of Negros Occidental for dispersal to qualified beneficiaries.
Himogaan River Eco-Cultural Tour & Molocaboc Vito Eco-Cultural Tour
Who could resist to these mouthwatering variety of seafoods? Our local cuisine is delicious and cooked in our distinct and unique way.
Sagay Marine Reserve 
The Eco-Tourism Destination of Northern Negros 
The City Government of Sagay has embarked on laying down the foundation of sustainable tourism development with its guiding principle "Tourism enriches, protects and helps build community." 
As the City invites tourists to come, commune with nature and have a life-changing experience, it has embraced its new eco-tourism branding "Sagay City: Where love for nature begins". 
The city has also started crafting its sustainable tourism masterplan and has created its first eco-tourism loop: Museo sang Bata sa Negros (managed by the Museo Bata sa Negros Foundation, Inc), Carbin Reef and Suyac Island Mangrove Eco-Park. Sagay has also organized the community-based ecotourism stakeholders to become entrepreneurs and protectors of the environment and providing them the opportunity to wealth generation. These are: Sagay Island Ferryboat Operators Association, Buhay Dagat Snorkeling Guides of Sagay Association and Suyac Island Eco Tourism Association. The City has implemented environmental safety nets such as carrying capacity and empowering stakeholders to protect the environment and participate in biodiversity conservation. 
The City will also be organizing the second and third eco-tourism loops which are the proposed Community-based Himoga-an Eco-Cultural Tour and the Molocaboc-Vito Eco-Cultural Tour. 
Our past and present leaders continue to be committed in its journey towards sustainable tourism as it values the environment and community to achieve a sustainable future.The story on sustainable tourism continues to unfold as the city works on transforming one island after the other to become sustainable and resilient. 
.
1997 – Top Ten Innovation Program on Marine 
Conservation and Project 
GAWAD GALING POOK AWARDS / AIM and Ford Foundation
2003 – Best Aquatic Resources Management in the Philippines 
DOST-PCAMRD 
2006 – Best Eco-Tourism Product in Western Visayas. 
Department of Tourism, Region VI 
2007 – 2nd Place, "Outstanding Marine Protected Area" 
Among the 170 entries in the whole Philippines, 
Marine Support Network(MSN)
Resource Management Section – Conducts research and monitoring activities to evaluate impact of management strategies; initiates development projects through sustainable use of resources to improve economic conditions while enhancing protection of the environment
Social Development Section – Establishes effective community organizations and introduces livelihood projects that will discourage illegal fishing practices and decrease dependence on marine resources for sustenance. 
Law Enforcement Section – Implement laws and regulations through surveillance and monitoring of the protected area. 
Permit and Licensing Section – Grant permits for sustainable utilization of marine resources in accordance with existing rules and regulations governing the Reserve. Conducts Color Coding scheme for Fishing Boats below 3 gross tons and other fishing structures which provides fishermen preferential use rights inside the Reserve.
Dive Sites
Bird Watching Site
Bat Watching
Snorkeling Area
Mangrove Trek/ Boating
Catching Jars
Game Fishing Areas
Sanctuary Area
Sagay straddles a good portion of the northernmost tip of the Island of Negros. Sagay can be easily identified in the map of Negros. Sagay Marine Reserve is located at 10 57' 28″ – 123 21' 42°- 10 57′ 41″. 123 22° 14′ in the map.
It is about 32,000 hectares and covers the islands of Molocaboc, Diut, Matabas. Suyac including the surrounding reefs and the reefs of Carbin, Macahulom and Panal. Sagay City is 84 kilometers away from Bacolod City and can be reached by land in about one and a half hour ride.
Social Marketing Pride Campaign
Social Marketing Pride Campaign in Suyac Island, Sagay Marine Reserve in Partnership with Museo sang Bata sa Negros Inc, DepEd-Sagay, GIZ, ACCCoast and Rare.
Sagay Marine Reserve Office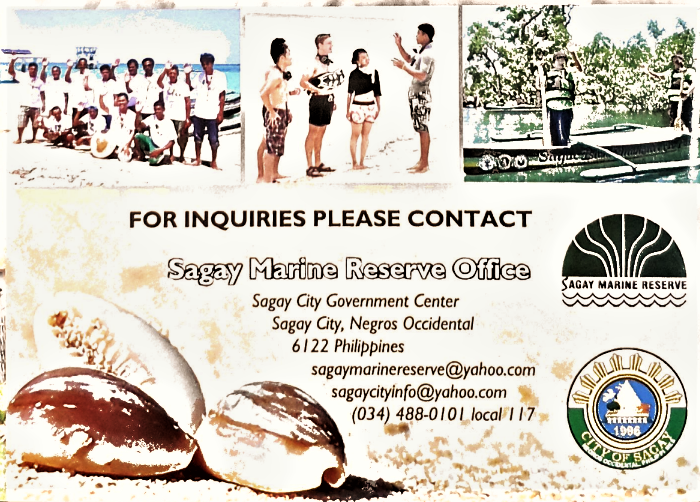 Sagay Marine Reserve Office
Sagay City Government Center
Sagay City, Negros Occidental
6122 Philippines
sagaymarinereserve@yahoo.com
sagaycityinfo@yahoo.com
 (034) 488-0101 local 117
Sagay City Main Contact & Information
Balay Kauswagan 
New Government Center, 
Brgy. Rizal 
488-0316
Beach House 
488-0222/ 09466125555
C-Chen Paradise Beach Resort
09282995623
Hi-Way Travellers Inn 
09222262425
Nomer's Inn 
09466125555
Rak Pension House 
09239538088
SAMCOR Restaurant 
488-0365 
SeaJam Travellers Inn 
722-0238
Community Affairs Office
488-0482
Flavors of the Island
454-0618
lida farms 
Muy Bien Ventures, Inc.
441-0792
Museo sang Bata sa Negros 
457-8003 
Veloria's Squid Rings 
0916-308-0907 / 722-6517
Alvels 
Prince Hyper Mart 
Bong-bong's.. 
Prince Hyper Mart 
Chimei's Restaurant 
09185711065/ 722-9949
Enting's 
4880378
Glenda's 
09301496295 
Holland Eethuis 
4880678
Hyannis Grill 
488-0449
Lutong Bahay sa Laguerta 
488-0175/09156839880
Merzci 
722-0125
Nichols-Aguilar 
Market Mail Food Court 
Nikoy's Pizza Haus 
09460846939
Nuknoy's Seafoods 
0935-9821404
Mama Auring Food Garden
09122530238 / 09489844970 
Snackee Fastfood 
Ton Ton's & RC
454-1119 
Tazza Di Cafe 
09399399516
City Mayor's Office / 488-0590/454-11971488-0101 local 109 

City Information & Tourism Office / 488-0649 

Philippine National Police / 166/ 488-0429 

AEMSM District Hospital 7722-4819 

Bureau of Fire Protection 7722-5933 

Sagay Rescue 1488-0300 

City Health Office 1454-0061
FOR BOOKINGS: 
City Information & Tourism Office 

Old City Hall, Sagay City 

6122 Philippines 

034 – 488 – 0649 

sagaycityinfo@yahoo.com
Sagay Official Tourism brochure taken from the Department of Tourism, Airports, and Panaad Festival.