The Province of Negros Occidental, the manager of Mambukal Resort, has announced this April 19, 2022 the reopening of the Province's Hot Spring Resort and its Wildlife Sanctuary.
Day visits will be accepted starting 3rd week of April 2022, and overnight stays by May 2022. Scroll down below for the latest rates. 
2022 updates: The camping area is not operational anymore as well the activities like zipline, hanging bridge, there is no boating activity anymore in the lagoon area, wall climbing, ishiwata bath house is longer available for guest use but the structure is still there. 
If you're looking for a nature-based resort, volcanic hot spring and waterfalls in Negros; where you can have close-encounter with rare wildlife species, Mambukal Resort is on top of your list.
A place of natural beauty
Mambukal or alternatively spelled "Mambucal" is a Mountain / Highland Resort in Brgy. Minoyan, Murcia, Negros Occidental.
It is government-operated, directly governed by the Provincial Government of Negros Occidental, so expect prices are subsidised or affordable. The place is cool also, so you get to be served by God's creation better.
Mambukal is one of the oldest and most successful government-run resort in Western Visayas. I got a lot of childhood memories here. It is a must-visit when you come to Negros Occidental province. It's a good place for road trip, camping, nature trekking, adventure or solo travel.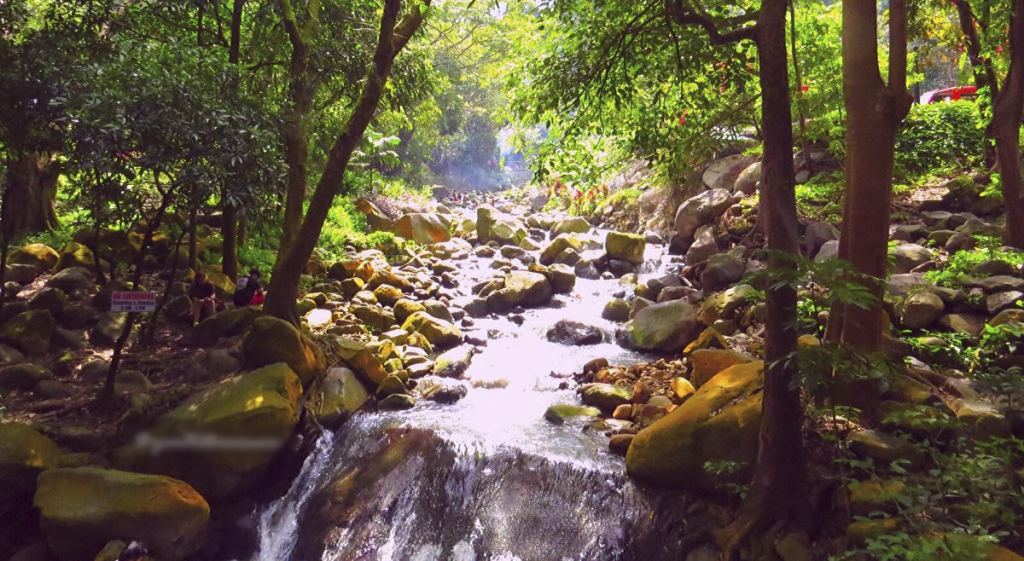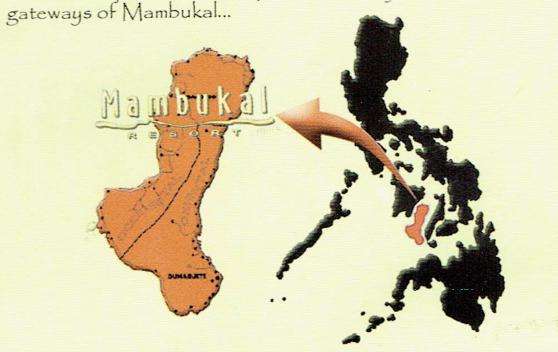 Mambukal is only 32 kilometers away from Bacolod City and the accessibility to this place is very easy (in Libertad Public Market). If you commute, the jeep / canter will pass through the Municipality of Murcia.
Mambukal is a place of natural beauty. It lies on the foot of Mount Kanlaon- although it is relatively very far in terms of distance (2 days walk) – and the offshoots of the Kanlaon gives Mambukal the power to make people enjoy- such as the elevated location and cool air, hot spring, Negros species and flora and fauna.
Since this is government-led, the prices are relatively-lower compared to majority of private-owned resorts. The age of the resort also contributes as to why this place has developed transportation to and fro and popularity. The affordability of the rates add to the "comfort" for the visitors – both physically and financially. You have options for food like bringing your own cooked or raw, or you can just buy from the tiangges outside or inside the resort.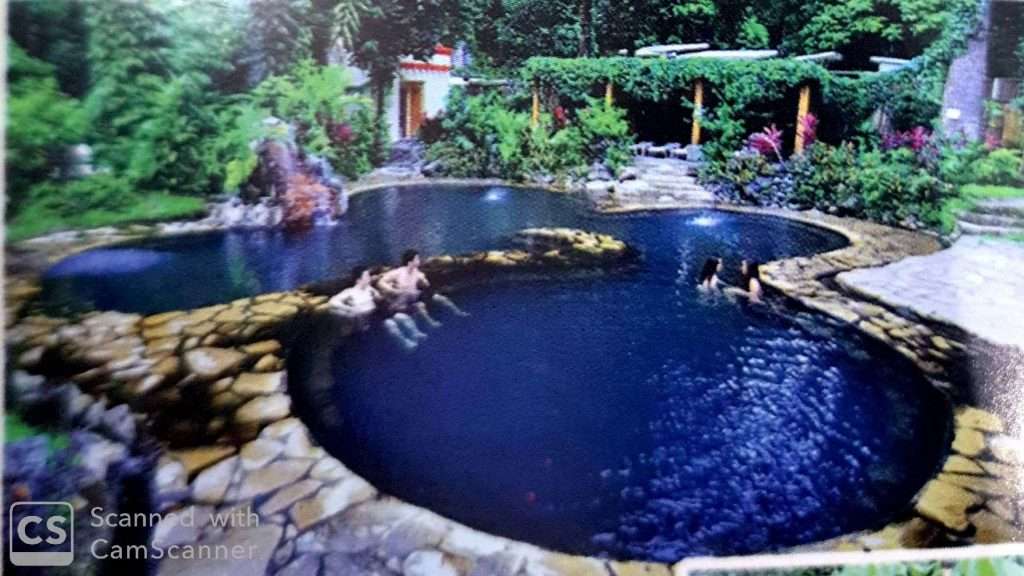 Mambukal is spread to over 23.6 hectares of land which allows you to enjoy different forms of enjoyment – from cool winds, quality but cheap accommodation, convention / conference, camping, falls (seven falls), access to Mount Kanla-on, boating, zipline, flower buying, hot springs, swimming, conference, butterfly and bat watching or just simple nature stroll. 
It's distance from Bacolod City (45 mins to  1 hour) allows you to enjoy nature without being too far from your business, work or transactions in the capital of Negros Occidental. 
Mambukal Resort Villas and Family Cottage
A short video of our stay in a Family Cottage of Mambukal as of May 2022
Families or groups can detox in the very relaxing and scenic resort villas which will surely make any vacation stress-clearing and enjoyable. 
The LGU Cottages I think are so fare the most economical options for a group or family resort trip. The rooms are good for you to enjoy a bonding and a good rest. Here's a pic below of my family during our reunion last April 2018.  
We arrived in the afternoon, just few minutes after 2PM (the check-in) time and headed to eat our late lunch. We then had a dip at the hot spring and cooked our dinner for the night. We enjoyed the bonding over the grilling pork chop at the grilling area using charcoal. After dinner, we had a good conversation, prayer and bible study time. At 6am, we woke up at the coldness of the air, and watched the bats flying around the sky before they go back hanging at the trees for sleep. 
How to Get to Mambukal Resort From Bacolod
Bacolod City Silay Airport is 55 minutes away from Manila and 30 minutes from Cebu by air. or book any transpo below.
Mambukal is ~45mins drive form km 0 in Lagoon Park. You can simply use Google Maps or Waze for the location. You pass by Brgy. Mansilingan and Murcia Municipality.
After Murcia Town, you'll pass this important fork road. Go straight ahead for Mambukal. Turning left will lead you to Don Salvador. 
Tip: You can hire a private transportation service from us to maximize your trip. May have day tour: Mambukal/Campuestohan/Ruins/Manokan. Contact me for inquiry.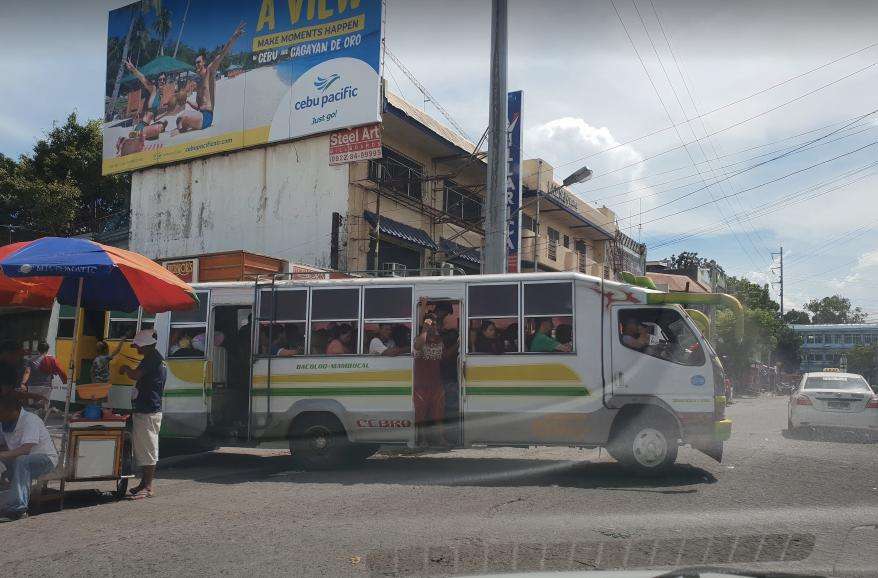 1. From SM, take a jeepney with the route Bata or Mandalagan and tell the jeepney driver to drop you at Libertad Market. You will either go down in front of the market or at the University of Negros Occidental. 
2. Take a little walk to Save More Libertad and just in front of it are Jeepneys called Double Tires with the route directly to Mambukal Resort. Fare ranges from 20 pesos to 40 pesos. 
1. Here's a route with a side-trip agenda. If you have time, take a jeep called Murcia-Libertad around Libertad Market too instead of Mambukal. You pass this town halfway to Mambukal. This is my hometown, where I grew up.

2. Upon going down at Murcia Public Market, take a tricycle and visit a restaurant called Hilltop Restaurant. After there, take Mambukal Jeep either at Murcia Market or Murcia Plaza.
How to Get to Mambukal Resort From Iloilo
Go to Iloilo Fastcraft Terminal in Lapuz via Taxi or Tricycle.
Take any of the Fastcrafts (Weesam, Oceanjet or Supercat).

Alternatively, if you want to bring your, go to Dumangas for RoRo trips to Bacolod. Or take the Fastcat RoRo from the City Terminal.
Another alternative but a more challenging route is Iloilo to Suclaran Guimaras to Pulupandan Negros.

Upon arrival at BREDCO:

Get a taxi to Libertad Market Mambukal Terminal in front of Save More Libertad. 
or get a tricycle and ride with the others at ~10php per pax. Go down at SM Bacolod. Get a Bata-Libertad Jeepney and go down at Libertad Market Palawan Pawnshop. Walk towards Save More Libertad.

The Mambukal Cebro Jeep will bring you directly to Mambukal Resort Gate.
Reservation (Updated July 2022)
official facebook page https://www.facebook.com/MambukalSanctuary/
For reservation and booking, contact (0961) 757 9710 or (0909) 976 9988 or visit MAMBUKAL OFFICE at the PROVINCIAL CAPITOL LAGOON.
The reservation time is only mondays-fridays 8am-4pm
NO RESERVATION, NO ACCOMMODATION POLICY. Strictly NO WALK-INS.
Mambukal Falls is one of the most popular features of Mambukal Mountain Resort. 
Above the mountain tops of Mambukal Resort are cliffs of rocks where a big mountain stream flows through. The stream flows through several tributaries and descends seven times, producing a total of seven waterfalls. 
The water stream goes through the center of the resort and through the boating lagoon. It then flows out to Murcia, then combining the big streams leading to the Bago River, and exiting the Bago Delta. 
At the foot hills of the trek lie a booth for the guides. As of today, no longer is anyone allowed to get to the falls without a guide familiar with the passage.
Mambukal is also one of the Gateways to Mt. Kanlaon National Park
There are several ways to get to the crater of Mt. Kanla-on one of them is the Wasay Trail. 
Wasay Trail starts from Mambukal, a gradual progression of approximately 14.5 kilometer trek (2 days) to the summit and approximately 2,435 meters above the sea-level.
There are four different species of flying foxes around Mambukal (1) Golden-Mantled (2) Common Island (3) Large Flying Fox and the (4) Endangered Golden-crowned flying fox. There are more than 8,000 to 10,000 individual flying foxes in this mountain resort. 
FAQ: What time of they year best to experience batch watching? Ans: I think anytime. I've been in Mambukal across all months of the year and the bats are there all the time. Especially in the late afternoon, they're flying.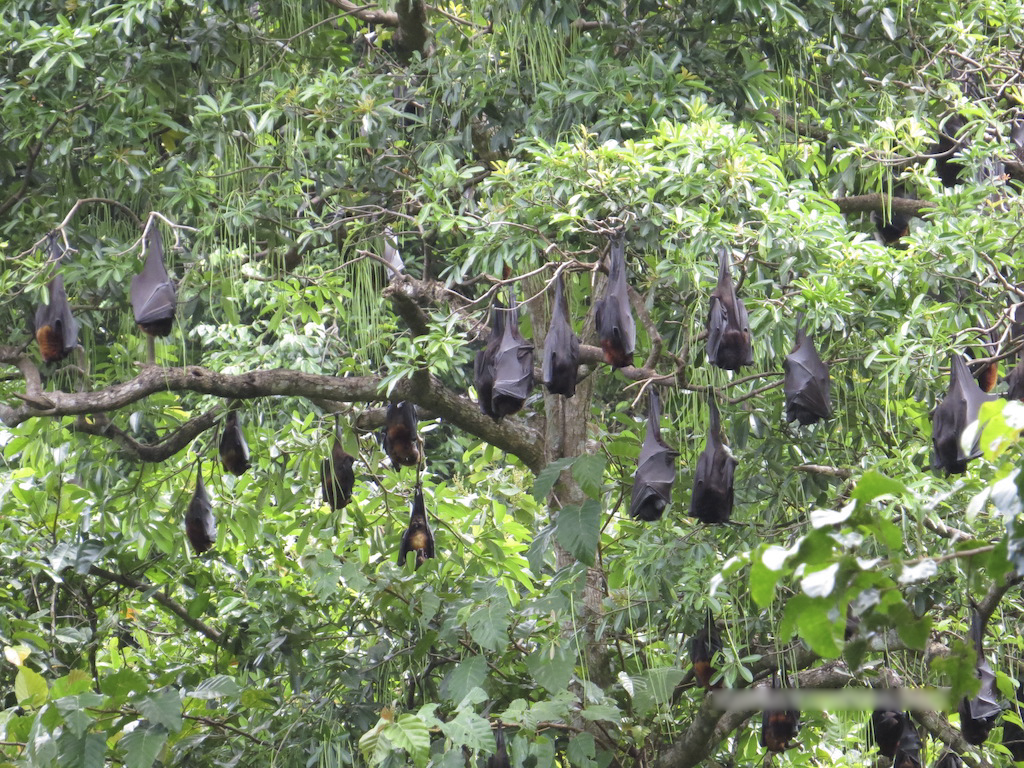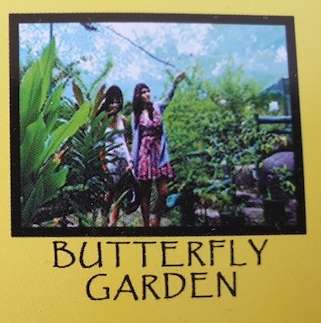 There is an abundant number of species of butterflies and other interesting life forms that can make kids enjoy, families bond and inquisitive visitors explore. 
4. Dip at the Therapeutic HOT SPRING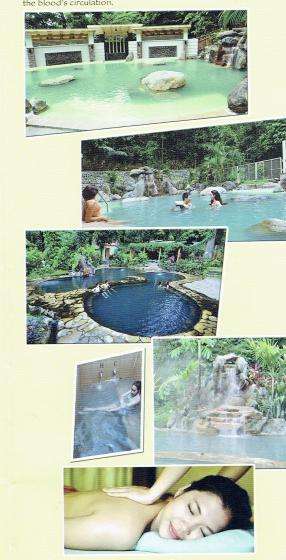 Take a plunge and let the heat melt your cares away. Unwind and pamper yourself to a calming environment with calming services. 
The hot minerals and sulfur from the ground continually feed the dipping pools of Mambukal – such as the Resort Dipping Pool, the Ishiwata Bathhouse and the Japanese Ofuro which was inspired by the Rotenburo in Japan. 
The hot waters mixed with nature's minerals is good for the body- taking away tension and strees, soothes muscle pains and stimulates good blood circulation. 
After a body-healing bath at the dipping pools, you can let your body relax at the Blade's Spa.
Generally, there are two Hot Springs in Mambukal where people can soak: One is directly under the "bats' tree", beside the bridge and beside the road (see map below) and  one is just beside it, going inside which is known as the Japanese Ofuro. 
Since Mambukal was first developed  by the Japanese, this has been specially preserved and developed. I know many Japanese retirees in Negros who go here regularly. 
Below is not for bathing, but just for witnessing how waters from the deep are being heated up by deep volcanic earthly activity from the crust of the earth. This can be found along the lines of the flowers for sale. Be careful because around this pool is an area called "Boiling Mud."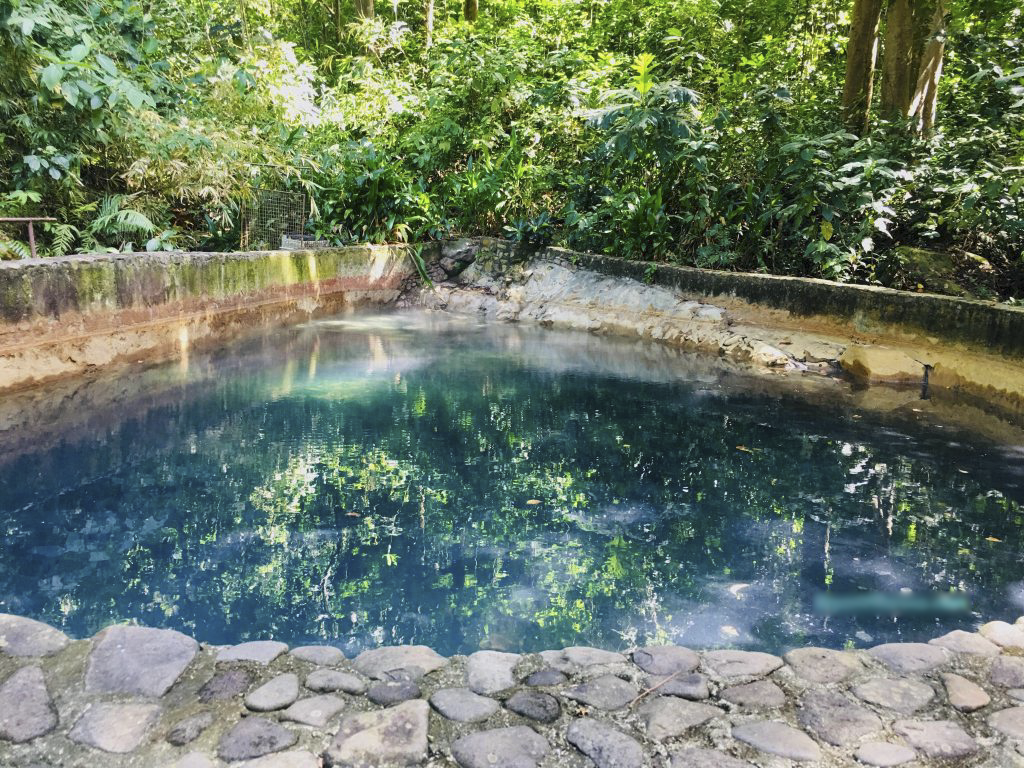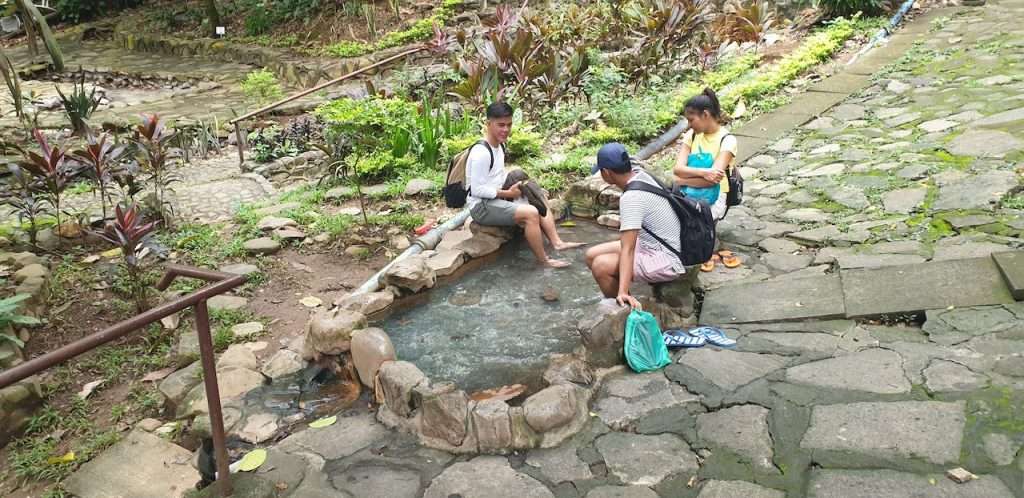 Or simply let the cold waters of the swimming pool destress your body from the pressures of the city life. 
Mudpack Festival is one of the unique festivals in the Philippines held every 3rd Week of June. This is a celebration of oneness with nature- when man and nature embrace one another, acknowledging the interdependence with each other. 
This celebration features Mabukal's multi-colored clay where artists showcase their talents using ethnic music, dances and crafts. 
Activities include:
Installation Art
Clay Body Painting
Poster Making
Mixed Media Art Competition
Solo Dance
Tribal Dance Competition
Drumbeating Competition
Ishiwata: Mambukal Gathering Place & Hot Spring Bath
The first permanent structure in the resort is before World War 2, the Ishiwata Bath House, was built in 1927, as part of developments made by the Japanese architect Kokichi Paul Ishiwata.
The hot bath is connected to Mambukal's Hot Spring where you and/or your friends can enjoy a group soak over the sulfur water emersing from the depths of the ground as a gift from Mount Kanlaon.
The Ishiwata Bath House, of neo-classical design, is the oldest structure in Mambukal Resort.
It was designed by Japanese urban planner and architect Kokichi Paul Ishiwata in 1927 and is now declared a national historical site.
The bath house has five different cubicles that provide privacy to bathers, and is famous for its hot sulfur water from the Kanlaon Volcano and cold water from Mambukal's 7 waterfalls.
Ishiwata was also the planner of Mambukal Resort.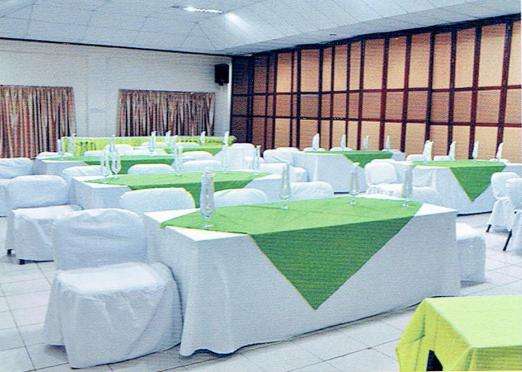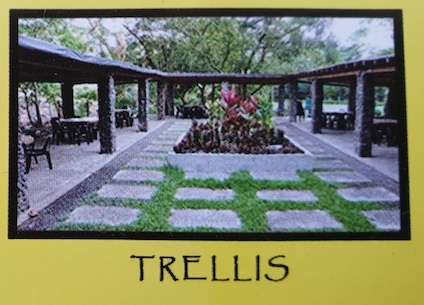 Mambukal is also conducive place for those who want to mix business with pleasure- or maybe conduct conferences for your cause or profession. Your guests can enjoy a cool place, close to nature and away from the easy distractions of the urban area.
This allows you to have close fellowships and focused attentions. Catering Service is also available for events or functions. For set meals and buffet choices.
The Mambukal Convention Center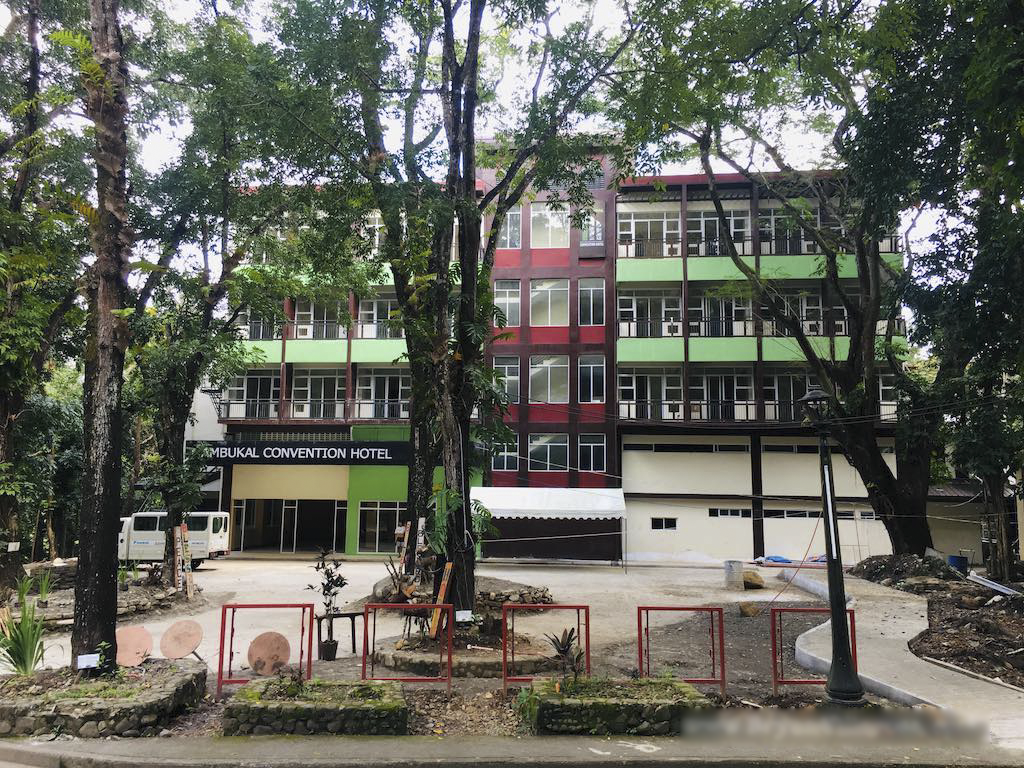 SPA RATES (THE BLADE SPA @ MAMBUKAL)
My Memories in Mambukal Resort
This place is a remarkable place for me for some reasons: 
(1) Since I was a child, I've had wonderful memories here with my family. We were bonded in this place, and those memories include the coolness of the air and the sumptuousness of the food. The smoke from the grills add to the feel of the "freshness" of the bounty right from the charcoal heat. 
(2) When I was in high school, our whole batch went here and I can still remember our feet soaking in the cold waters of the river, experiencing intermittent pain over the small rocks by walking barefoot and the cold smooth huge rocks where we can sit or lean. 
(3) The mud during the mudpack festival or just an ordinary rest day brings memories of soft texture mixed with feeling of healing from the nature minerals. 
As time went by, I saw the development of this place from a raw natural resource to a responsible eco-friendly and government-led development and architecture. 
Mambukal Resort Reservation Office
Telephone Number: (034) 433-8516 / (034) 709-0990
mambukalreservationoffice@gmail.com
Address: Old Capitol Building, Gatuslao Street, Bacolod City, Negros Occidental
Mambukal Resort at Brgy. Minoyan, Murcia, Negros Occidental

(034) 473-0610
www.mambukalresort.negros-occ.gov.ph
Official Page: Mambukal Resort _Official Page_
Actual Reference (Brochure taken from Mambukal on Nov 2019)