Lantawan View in Silay, Negros Occidental still never fails to give me awe towards the wonders of nature. If you want to detoxify from the busy, hurried life or want to spend quality time with your loved one, the glorious spectacles of nature in this area of Negros is a must for your next destination.
Affordable. If affordability is a concern, you may find that this peaceful surrounding could also be just what you need. 
In Hiligaynon, we call a place "lantawan" if that place offers a view. The root word is "lantaw" which means look or watch. A lantawan is an expansion of that term which signifies a platform where you can experience a spectacle or just a plain sight of something. It also means viewing deck. 
We came to this place as part of our team building activities in EastHomesBacolod. There's 12 of us and it was overall a pleasant experience. 
I think you will enjoy Lantawan if you want to relax with your group in a cool and quiet place while communing with nature. If you are also in a budget (P1,500 per night for a hut good for up to 15 people), I highly recommend this place. 
Reunion with Nature. Take a break from the concrete jungle and give yourself a sabbath.
Team building or Fellowship. You can bring your company, team, friends or family. You can enjoy a whole day retreat, team building or family outing. You can also book an overnight stay by reserving an accommodation. The cool climate is good for the health especially of the oldies. 
Solemn or intimate moments. I think you will also enjoy Lantawan if you love to compose songs, finish your book or write your novel. If you are into biking or long-distance motorcycling, the place is the best.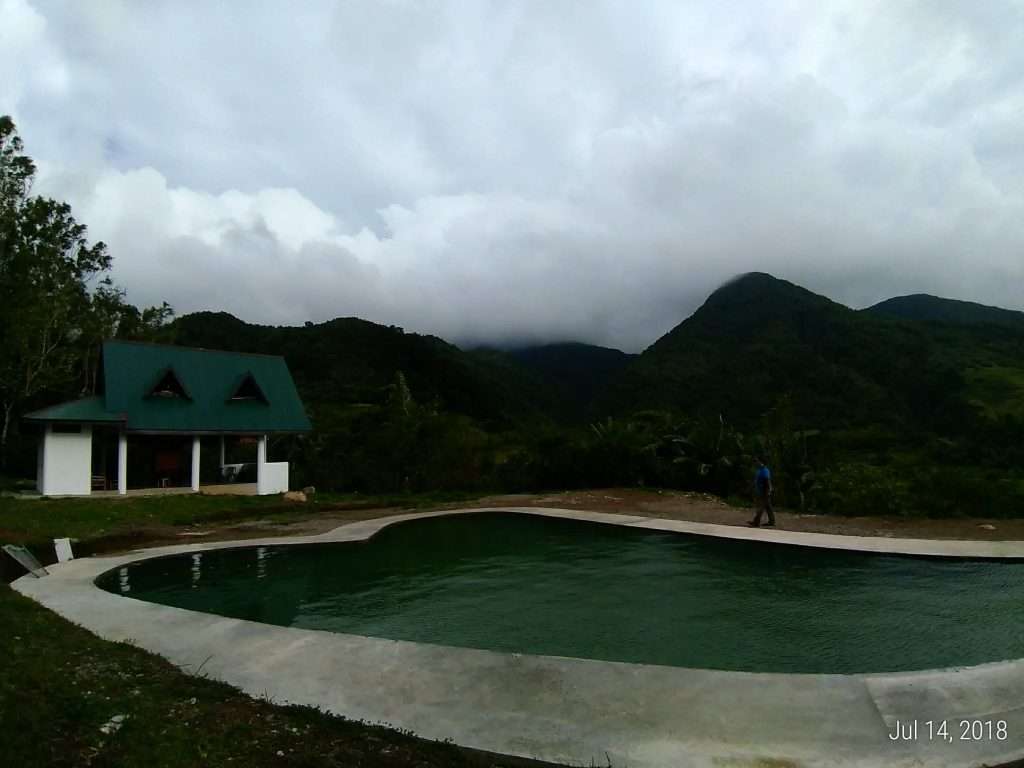 Nature, cool air, and quietness- these three are the main attractions of Lantawan for me.
Nature. We were created to commune with the created order. We are healed and restored by the aroma of vegetation. Our lungs are rested when cool oxygenated air rush in. Closeness to nature brings astounding detoxifying properties. Your mind and soul recuperate even just overnight. Weekend with nature causes you to come back to work refreshed.

 

Quietness. As an introvert, I like tranquility. It allows me to sift through the noise of the digital world, the internet, and the media. In the silence, I can listen to the Voice which is revealed in nature and His Word. In silence, I can hear myself. I can write. I can relax. 
Heart-shaped Swimming pool. Enjoy water from the springs which were used in this pool. While in the water, you will enjoy the lush green mountain ranges.

 

Swing with a view. There's a set of swing, an attic-like Kubo where you view the horizon and lofty green heights.
Spring / Creek. A few minutes walk down the valley will take you to the cold waters of "Hinalinan" river. See photos at the bottom.
"Nature is one of the two books that reveals the majesty of the Creator"
There are 2 main options for how to travel to Lantawan:
Exact address. Sitio Lantawan, Barangay Guimbala-an, Silay City, Negros Occidental.
Hire a private vehicle. Rent a van or use your own private vehicle. From Bacolod City Plaza, it takes around 30 minutes travel time via Bacolod-Silay Circumferential Road or Carlos Hilado Highway. When you reach the airport road, turn right. Before approaching the airport gate, turn right to the road which circumnavigates the runway. That road, after circumnavigating, will lead to the mountains of Silay. 
Commute. From Bacolod to Silay, take Ceres, taxi or van in the Lacson area. Then Silay to via Jeep. The last trip is until 7 PM. Then from there, a Lantawan tricycle can fetch you. 
Near Duyan Cafe. Lantawan is just very near Duyan Cafe, just on the other side of the road. 
Entrance Fees. 
Adult: P50.00
Senior Citizen: P40.00
Child (6-12): P30.00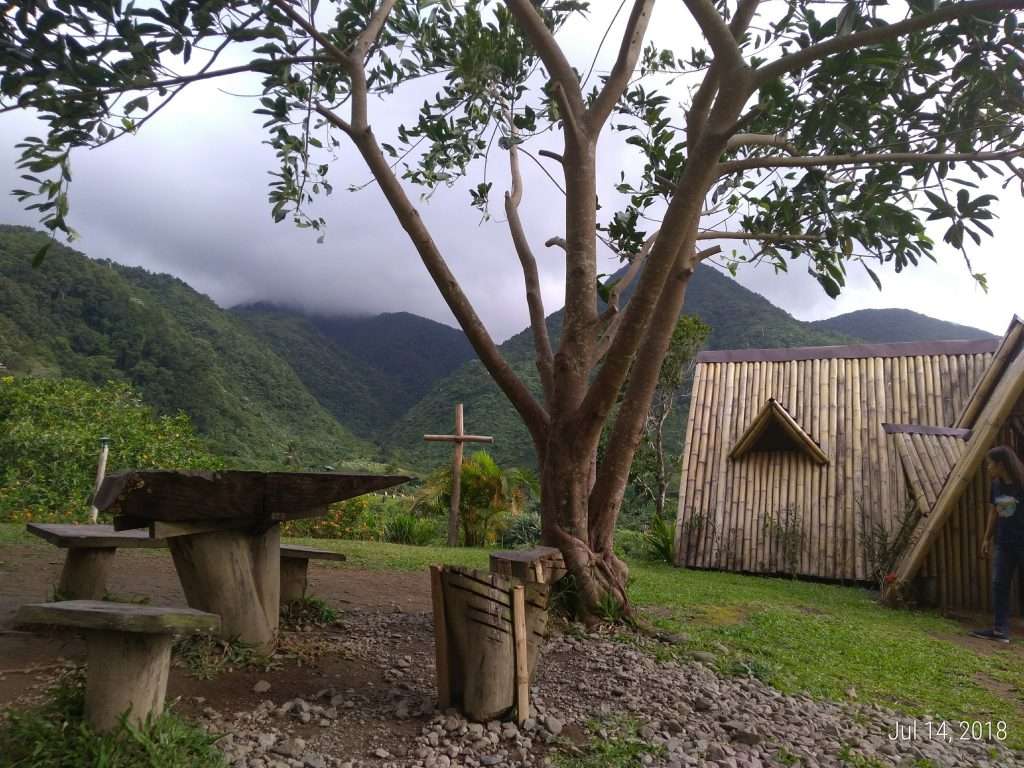 Compared to my first visit to Lantawan last 2016, this place now has more to offer. Before, a group could drop by and enjoy the view, stay in the bamboo hut or fellowship in the rectangular communal Kubo. This July 2018, there are more options. Please note that the prices may be subject to change, depending on the management.
Tables on the Grass. For day trips, there's a grassy area with tables where you can enjoy the marvelous view of the mountain ranges with clouds and mist on top. This is good for day visits. You may arrive after lunch or around 3 PM and watch the sunset until 6 PM. Price: Entrance Fee only. See above.
Open-type Kubo/Huts. A tropical hut with very open architecture, clean white curtains and a nice cushion for you to relax. You will have a windy experience here, and may a chilling one if you stay overnight. You can recline, squat, lie down in the soft foam. One hut even offers a set of teddy bears to hug and cuddle. It can accommodate up to 6 people. I like it how they placed four huts in the midst of the eucalyptus trees where they did not have to cut them down. Price: P1,000 per overnight
Bamboo Hut. I think is the classic and iconic structure of Lantawan. It can accommodate 10-15 people overnight. It has one bathroom inside and it leads to another 2-gender bathroom around 30 meters away. At the back of this hut, you can enjoy the view of the mountain on a cemented patio. This hut fits if you are looking for camp-like accommodation. Price: P1,500 per night
Tents. There are "trapals" and bamboo scaffolding where you can do the boy scout-like camping. Fits if you're into more rugged sleeping.
Hammocks. Some prefer to hang a "duyan" or a hammock between the trees for the night.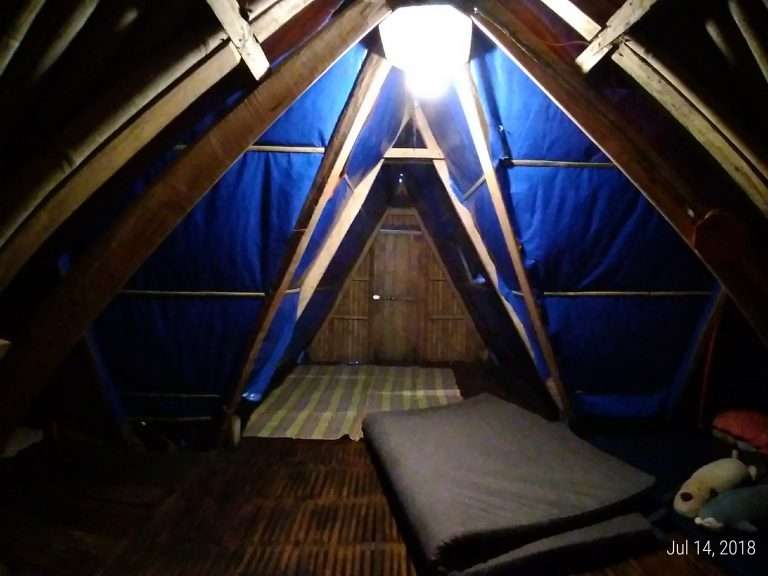 The Place. Lantawan is generally bright at night due to the presence of sulo-like lightings. So most likely, you won't need flashlights. Your phone could do.
Parking Space. Parking is inside the gate, just across the open-type huts. It can accommodate around 10-15 vehicles. You will have the peace of find for the safety.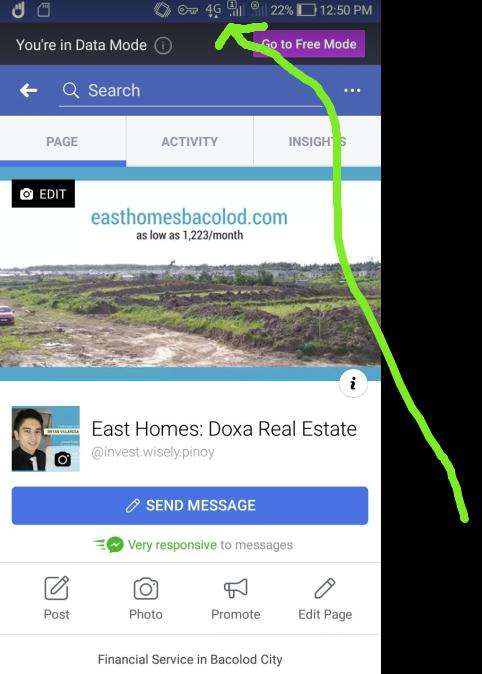 Signal. The place has 4G mobile internet signal at some points. Both Smart and Globe signal works well. If you are only after calls or SMS, you will have no problem.
Locals. The locals are friendly and accommodating. The caretaker has a sari-sari store and a house at the entrance. You can call them anytime. If you want coffee, they also sell native coffee. They also sell chips, snacks and other goods. 
Tips. 
If you want more security. We felt very safe in the place but if you will stay overnight, and you want to feel safer, you can bring a male companion with you. It's just up to you. 
Bring your own food. Bring your marinated meat if you want to grill. There's a barbecue area and a wash area. There are some sari-sari stores inside and outside in case you missed something.
Don't forget the jacket. It may get cold or foggy at night, or mist will be thick that it wets your skin, causing you to be cold. So better to pack them in. 
Bring blankets. Because the accommodation only provides pillows and foam. You may bring your own pillows if you want. 
Bring bonding table games. Bond together by bringing things like Ice Breaker, Ono-Stacko, Layered Bricks, Scrabble, chess or any table games. 
Bring hammocks. You will enjoy swinging between the trees while viewing the majesty of the mountains. 
Consider biking. There's an uphill terrain but I haven't checked extensively. But I heard from companions that it's one of bikers' destination. If you have questions, don't hesitate to contact me via my FB Page.
Bonus Tip.: Lantawan Tree Park and Hinalinan River.
If you want some cold water spring and cardio exercise, these two places are just a walking distance from the resort. 
Lantawan Tree Park. Try to tread down to the small spring called "Hinalinan." You will pass by Lantawan Tree Park by Suco, Simag Foundation. You will pass by some steep slope and some residents but have passable and even structured pathwalks.
Ask for a guide. Just ask for the Lantawan caretaker and connect with a local to accompany you. The river is not that big but you have to go down the slope and trek for around 30 minutes. Bring water, towels, and food. Don't forget to tip the guide!
To book or inquire about Lantawan, you may contact Tita Mareth who is residing in the place. 09094719897
She was there when we went there, and also manages the small "tiangge" or sari sari store within the Lantawan View.