Lakawon Island is a white-sand cashless luxury resort in Cadiz City, Negros Occidental. It is around 1.5 hours drive away from my hometowne, Bacolod City. 
This modern island resort is a perfect get away if you're looking for a tropical, sun-kissed and chill vacation. With friends or with family, Lakawon will help you strengthen your bond.
Imagine, it's my first time there last March 23, 2019 just when my NOHS classmate Prem invited us. Here are the latest rates, fees, floating bar (tawhay), contact numbers and infos: 
Lakawon Island Rates 2020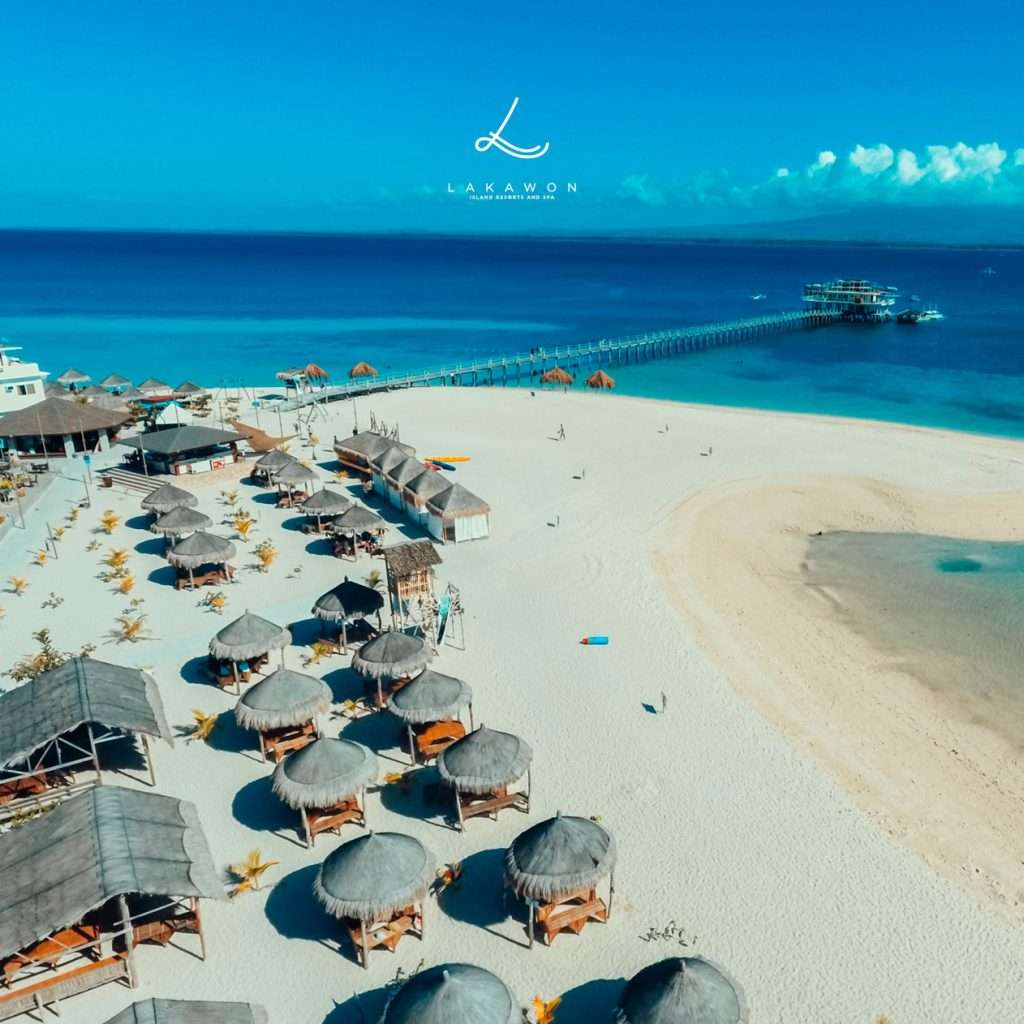 Island Service / Item
Rates
Entrance Fee, Terminal Fee, Boat Ride 2-way:
P350.00/ person
Tawhai Floating Bar
P285.00/ person
Umbrella Hut
P600.00/ person (up to 6 persons only)
Family Cottage
P1,200.00/ person (up to 10 persons only)
Extra person additional:
P100.00/ person
Corkage Charge:
P250.00/ person (as of Jan 2020)
Kids 4 and below are free of charge
References:
Lakawon Island Room Rates, Boat Fares, Contact Numbers
The fastest and easiest way to get to Lakawon from outside of Negros Island is by flying to Bacolod-Silay International Airport or Bacolod terminals. Book your tickets for any means in the search form below.
Using a private Suzuki mini car, I was glad drive from Bacolod City to Lakawon Port in Brgy. Burgos Cadiz City. With only Google Maps and some previous knowledge of my NOHS classmate, Jorge, we reached Brgy. Burgos, Cadiz City welcome banner. You must turn left at the street with a mini town terminal and a welcome sign named "Welcome Brgy. Burgos."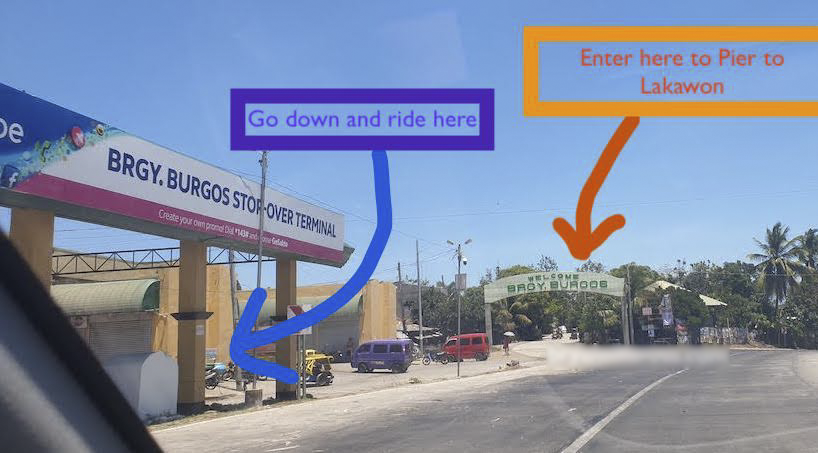 Via COMMUTE FROM BACOLOD CITY
From Bacolod City or any point of Negros Occidental, your goal is to reach this signage of Brgy. Burgos. This is before Cadiz City proper if you're from Bacolod or Silay Airport.
From Bacolod City North Ceres Terminal, get to Cadiz-bound bus and go down at the Burgos Signage above.

Via COMMUTE FROM SILAY AIRPORT
From Silay Airport, get a tricycle outside the airport or a commuter van to Silay proper. Get to a Cadiz Ceres Bus or any that is northbound (except Victorias, Manapla). Go down to Brgy. Burgos above. Ride a tricycle to Lakawon Pier.
See my post for an in-depth guide from Bacolod Airport
See this guide for Iloilo to Bacolod via RoRo
Iloilo to Bacolod via Fast Craft
Once you arrive at Bacolod Pier, commute to Ceres North Terminal and take Cadiz-bound Bus. 
Your Travel Agency's van should turn to the sign above.
| Boat Schedules (~15 mins ride @ P350/ person) | |
| --- | --- |
| 7 | 00AM |
| 9 | 00AM |
| 11 | 00AM |
| 1 | 00PM |
| 3 | 00PM |
| 5 | 00PM (Last Regular Trip) |
| Special Trip Time Frame | Rates |
| --- | --- |
| 7:00AM to 5:00PM | P1,000.00 |
| 5:00PM to 7:00PM | P1,500.00 |
BEST TIMES TO VISIT LAKAWON ISLAND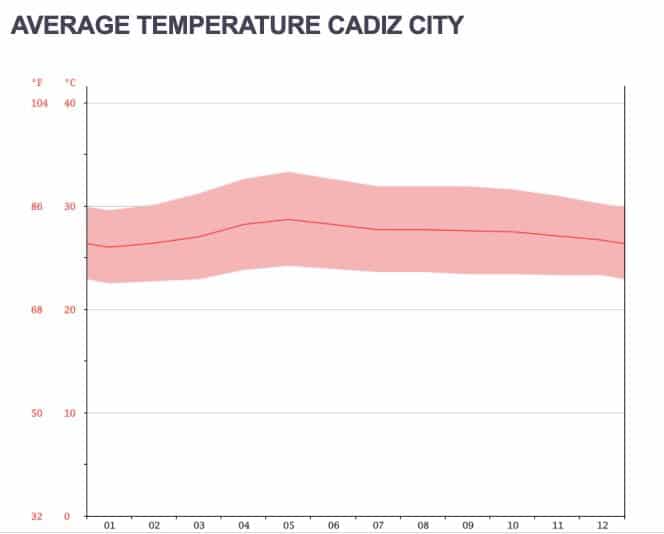 STEPS IN GOING TO THE ISLAND​
Get priority number. When we get there, there's not much people lining up since it's around 12:30 noontime. So we just went ahead to step 3. Priority Number Box:
Heed some reminders while waiting to be called. I think step 2 is for you to read some important infos while waiting for your number. As a Graphics Designer I want these to be better presented 🤣
Encode Passenger / Tourist Information. Here's my classmate Jorge typing our group information which includes: group name, contact number of point person, names of guests. The interface will then project total amount of the entrance fee.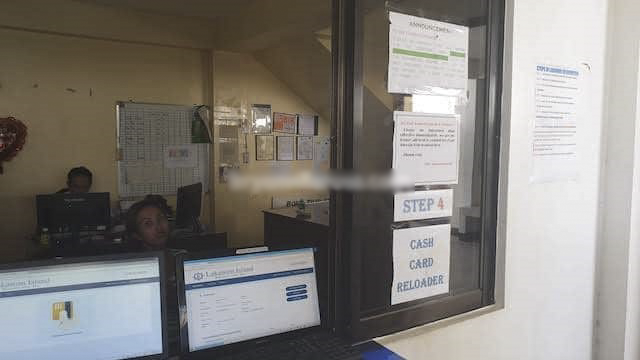 Reload Cash Card. Lakawon is a cashless society. Before you cross to the island, you will have to reload your card so you can stuffs in the island such as food, drinks and souvenirs. Don't worry!!! You can also add-up load in the island itself. 
At step 4, you determine how much load you are going to put up to your card.
I think this is good so the flow and exchange of transactions are perfectly logged and the management can gain visibility.
Wait to be called at the cashier. This time, it's exchanging cash to load.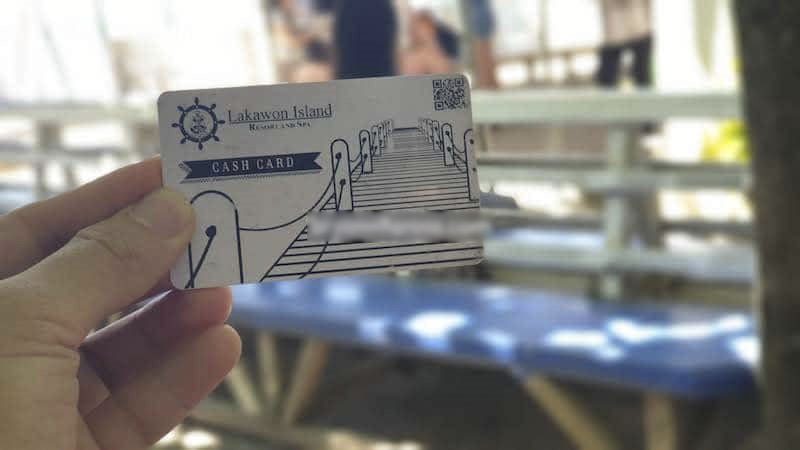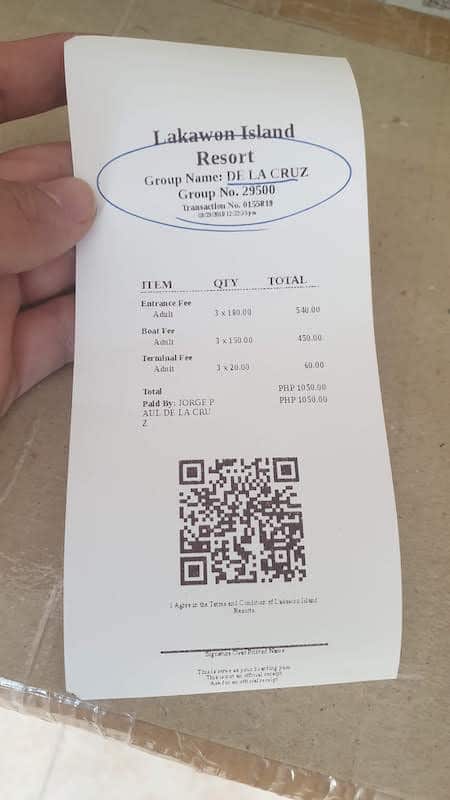 Pay at the cashier. You can also have modifications at this step.  You will have your receipt and card.
WAIT FOR YOU BOAT ASSIGNMENT ON THE SCREEN OR RE-OPT FOR SPECIAL TRIP​
PRESENT RECEIPT TO SECURITY GUARD FOR SCANNING AND STAMP​
PROCEED TO DESIGNATED BOAT
References & Insights:
In our experience, we did not perform Steps 5, 7 and 8 because there's not much people waiting in line. Just went straight to the boat.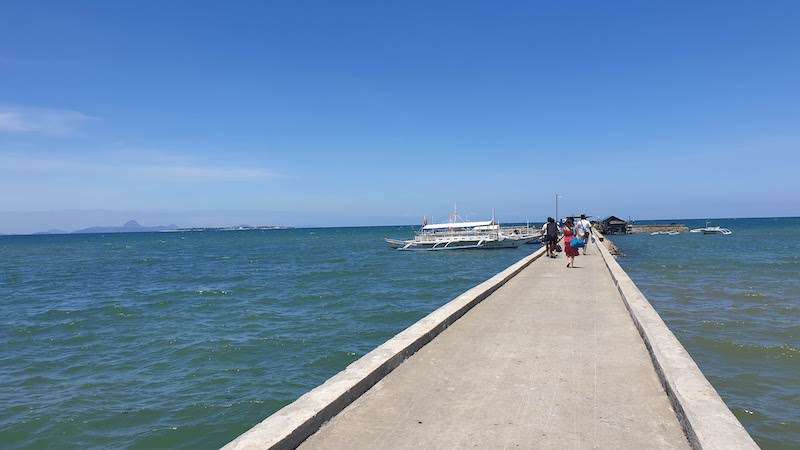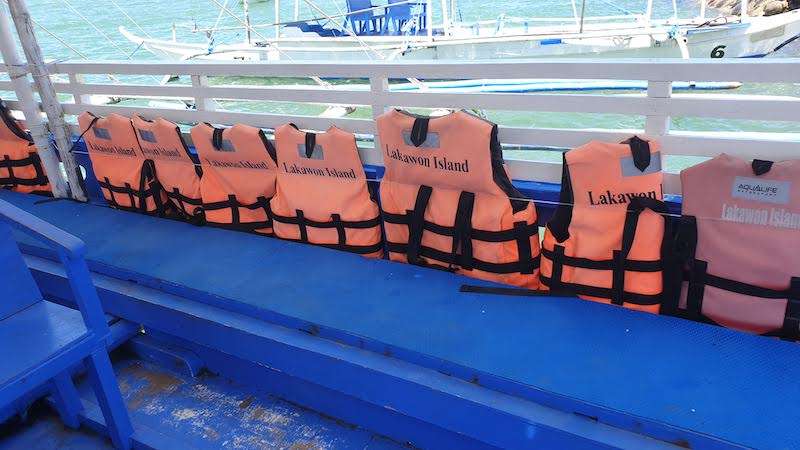 I see many people in Instagram taking pictures below this bridge.
Went here the 3rd week of March, so it's really a climax or the denouement of the summer season. So my first impression at Lakawon is "it's very hot" especially that we arrived 12:30 noon time and left at 5PM. So it's basically just a half day trip. I was not able to appreciate a full sunset and night cycle but nevertheless here are my shots.
Type of Room
Features
Rate
Bamboo Huts
Good for 4 persons; 2 Single Beds; 2 Extra Foams; Extra Person: P300/head
PHP 2,500/night
Pearl's Place
Good for 4 persons; 2 Single Bed with pull-out; Cable TV; Extra Person: P500/ head
PHP 3,799/ night
Bunk Room
Good for 8 persons; Airconditioned Room with 4 Bunk Beds; Shared Bathroom
PHP 4,999/night
Junior Suite A
with breakfast for 2; 2 single beds; Cable TV; Fridge; Terrace; Linen 250 Thread Counts; Extra Person: P750/head
PHP 5,000/ night
Premiere Suite A
with breakfast for 4;
1 King size bed, 1 Queen Size bed; Linen 300 thread counts; Terrace; Cable TV; Fridge; Extra Person: P1,000/head
PHP 9,499.00/ night
Junior Suite B
Good for 5 Pax
PHP 10,499/ night
Premiere Suite B
with breakfast for 5; 1 Queen-size bed; 3 single beds; Linen 300 thread counts; Terrace; Cable TV; Fridge; Extra Person: P1,000/head
PHP 10,599/ night
Barkada Suite
with breakfast for 6; 2 Queen Beds; 2 single beds; Cable TV; Fridge; Terrace; Extra Person: P1,000/head
PHP 11,999/ night
Condo Suite
with breakfast for 6;1 King size bed in Master's Bedroom; 3 single beds; Linen 300 thread counts; Terrace; Cable TV; Fridge; Extra Person: P1,000/head
PHP 11,999/ night
For reservations:
Globe Reservation: 09175022625
Smart Reservation: 09981544987
Tawhai is a man-made floating restaurant and relaxation deck 5 mins away from the island. You can lie down and stare at the horizon or at the grandiose sunset. The rate is P285.00 per person.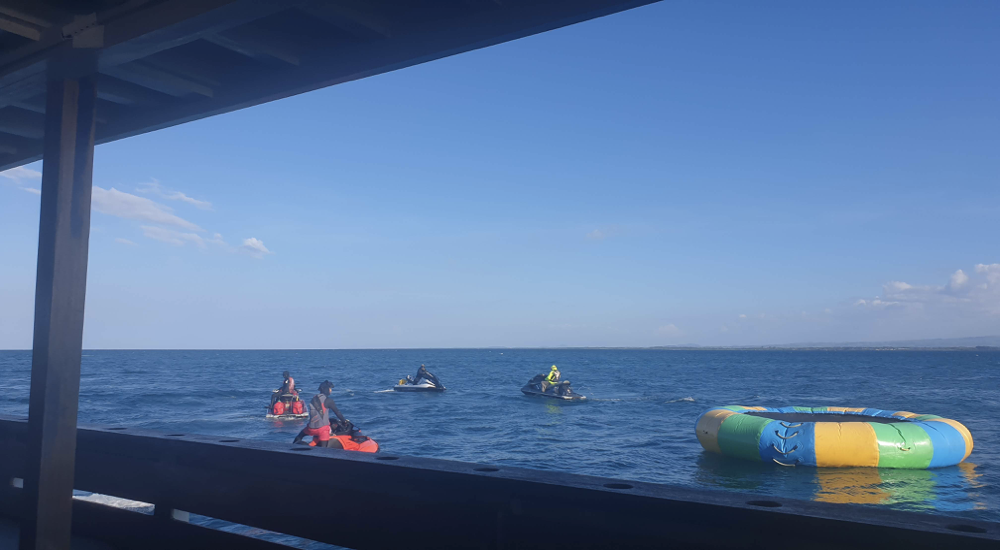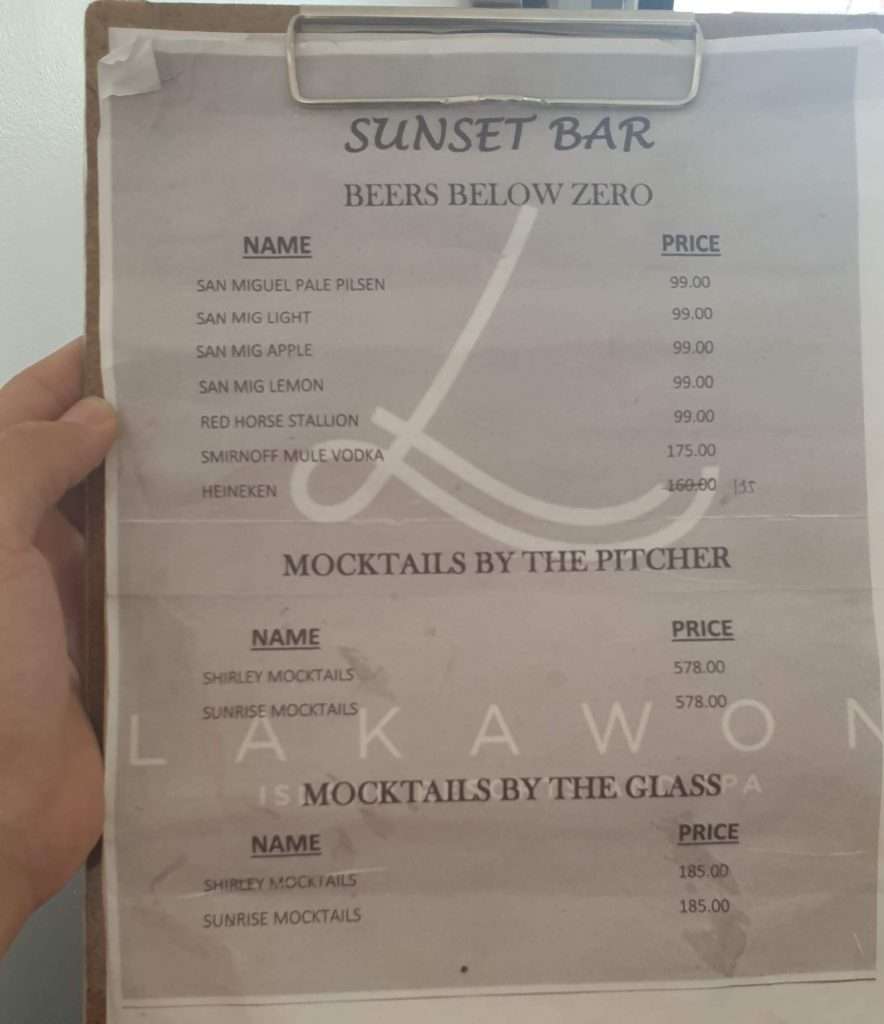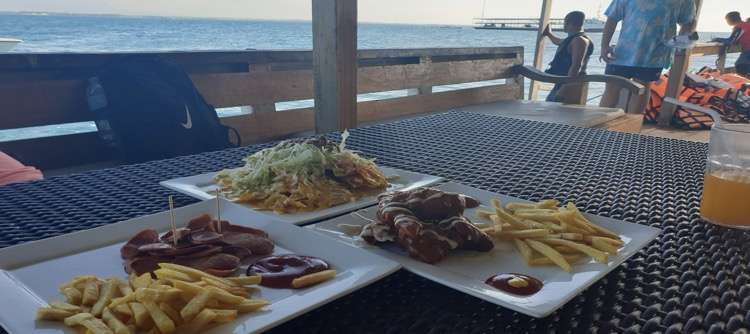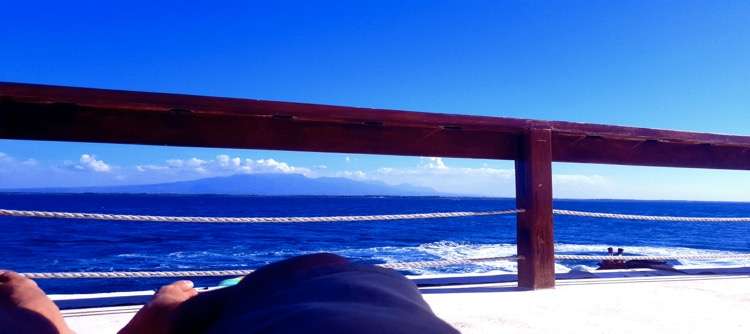 P2,100/ 6 persons / 15 minutes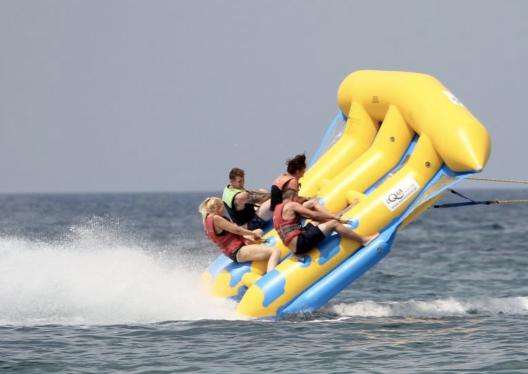 P2,100/ 6 persons / 15 minutes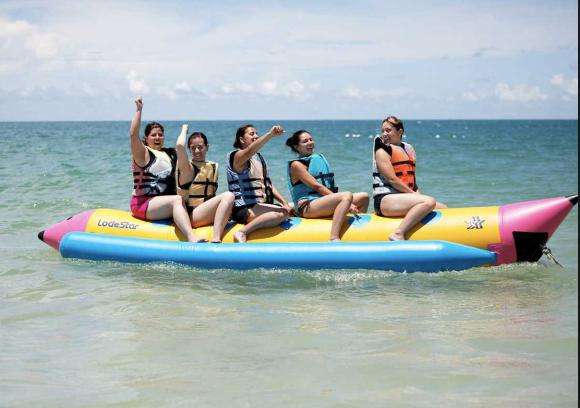 P2,500/ 8 persons / 15 minutes
P2,100/ 6 persons / 15 minutes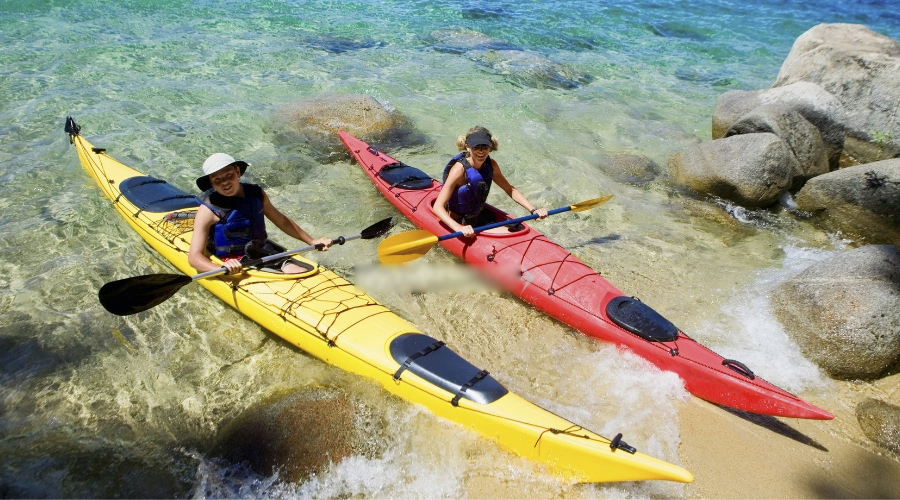 P600/2 persons/1 hour
P300/1 person/1 hour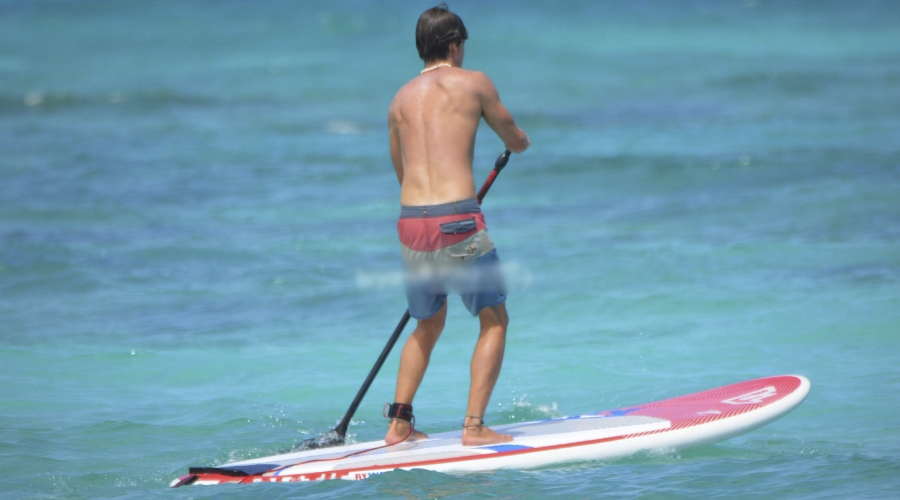 Actual Reference from Lakawon Island: Water Activities