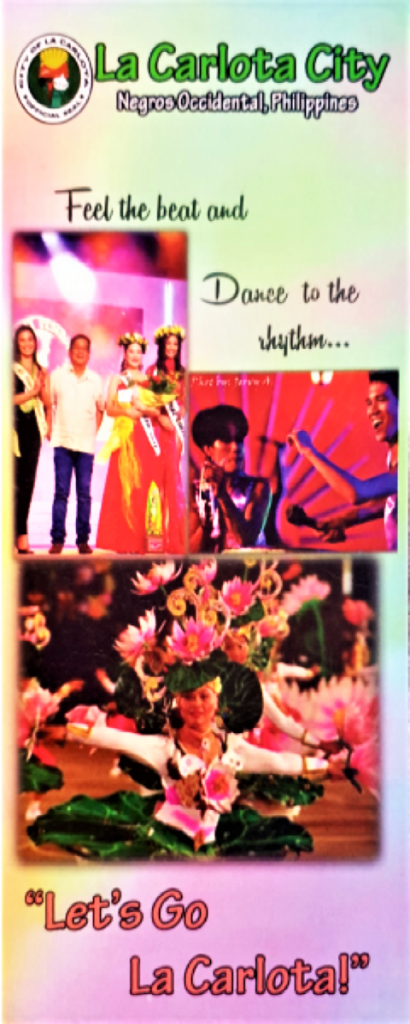 La Carlota was once a thriving settlement known as Mangkas, the name of a brave and noble warrior of Negrito inhabitants who lived in a quiet and idyllic place along the portions of Canman-ug Creek.
Because he was kind and revered by his people, Mangkas' name was also given to their children, and soon after, with so many Mangkas around, the settlement was known as such by the natives. 
The idyllic life of the natives came to an end with the arrival of the Spaniards. Though skilled hunters with their spears and blow darts and bows and arrows, their weapons were no match against the invaders who were armed with what were then modern weapons. The inhabitants were thus driven to the hills, their pride dented. But some remained in their homes and quickly assimilated into the new life. 
A number of years later, kindness returned to the place in the person of Carlota, wife of Spanish official Capitan Enrique, who showed compassion to the natives, cared for the sick and the poor and generally filled the vacuum left by the warrior Mangkas.
 The settlement started as a barrio of San Enrique under Carlota's husband and got its full status as a town during the last part of the Spanish era. To perpetuate her deeds, the natives named the pueblo after her. During that time, the Spaniards were used to preceding proper nouns with appropriate articles "La" so the place has been known as "La Carlota". 
On June 19, 1965 by virtue of Republic Act No. 4585, the town of La Carlota was converted into a city. It is a noted eco-tourism area and breeding ground for champion game fowls. La Carlota's Guintubdan Nature Camp is the favorite jump-off point for a trek to Mount Kanlaon Natural Park. 
La Carlota is also known as home of three world flyweights Boxing Champions namely: Pancho Villa (Francisco Gilledo), Small Montana (Benjamin Gan) and Little Dado (Eleuterio Zapanta).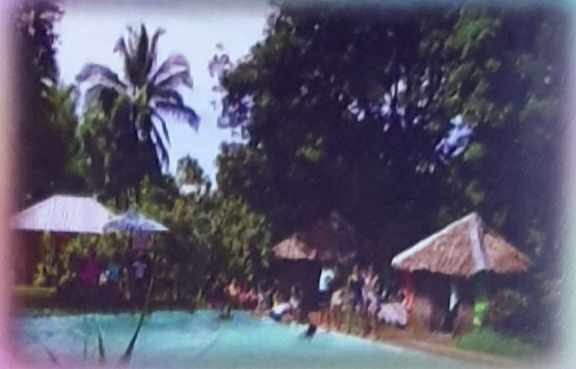 Located at Brgy. Haguimit. A place where you can unwind and enjoy the cool breeze. An eco-friendly resort which offers affordable accommodation for everyone to enjoy..
Perhaps one of the few areas in the country for nature study and Eco-Tourism is the Mt Kanlaon Natural Park. The park features an active volcano which is the highest peak in Central Philippines. It is ideal for such activities as nature-watching, mountain climbing, sightseeing and other mountaineering ventures.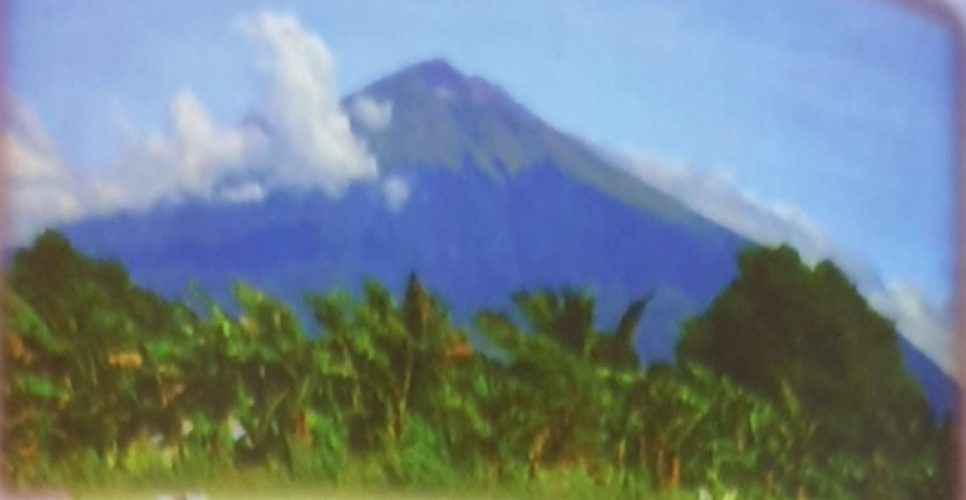 CHURCH, FESTIVALS & SUGAR MILLS
Located at La Paz St., Brgy.1 Poblacion, the distinct quality of this fortress compared with other man-made structures was its use of Silay red bricks and coral stones bonded together with lime. The materials were taken from Guimaras Island, Laborers who built the church were mostly Filipino slaves, forced to work and toll by the Spaniards. It is said that during those times, duck eggs were used as a binder for lime,
This is a week-long festivity of thanksgiving to mark the end of harvest and the milling season. It is held on the last week of April and culminates on a Sunday closest to May 1st. Pasalamat brings together the La Carloteno in unity and thanksgiving to God for its bountiful harvest.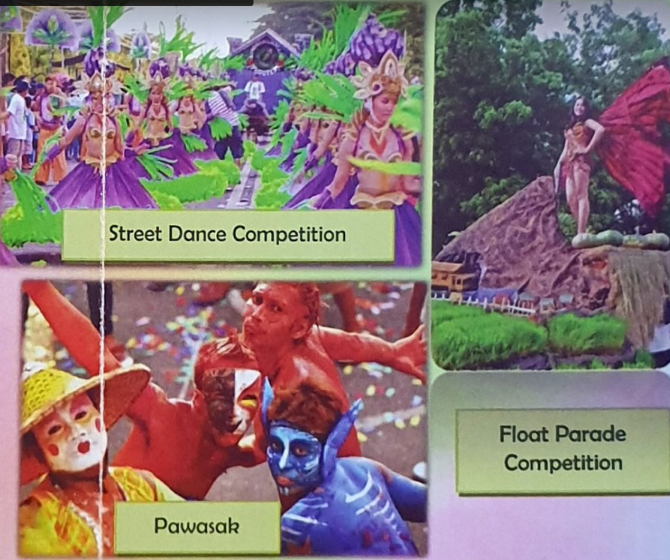 IRON DINOSAUR OF CENTRAL AZUCARERA DE LA CARLOTA, INC.
Gurrea St., Brgy. III – Poblacion 
Tourists and first-time visitors of the city are welcomed by a black vintage steam locomotive located at the entrance of the city west side. This is the proof that La Carlota is home to one of the largest Sugar Centrals of Negros Occidental.
CENTRAL AZUCARERA de LA CARLOTA, Inc.
Brgy. RSB, La Carlota City 
Central Azucarera de La Carlota, Inc. traces its history to 1916 when it was established by the Elizalde and Ynchausti families at Hacienda Esperanza in La Carlota, Negros Occidental at the south base of Mt. Kanlaon. Prior to its establishment, there were already two sugar mills operating in the vicinity Sta. Teresita and Kanlaon Mills. In 1920, CACI absorbed Sta. Teresita and Kanlaon and began its operations for crop year 1920-21.
HOW TO GET THERE & WHERE TO STAY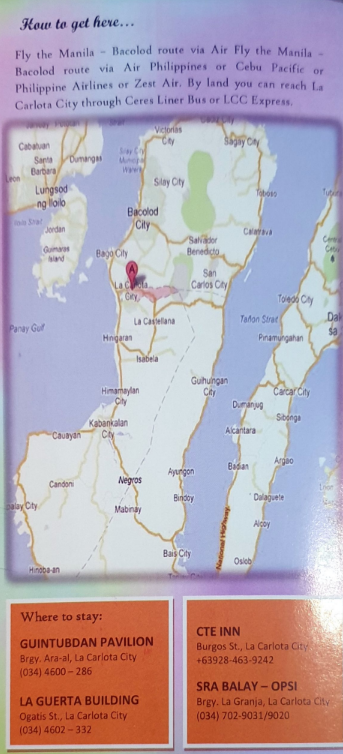 Fly the Manila – Bacolod route via Air Philippines or Cebu Pacific, Philippine Airlines or Zest Air. By land you can reach La Carlota City through Ceres liner bus or LCC liner bus.
GUINTUBDAN PAVILION

Brgy. Ara-al, La Carlota

(034) 4600-286
Ogatis St., La Carlota

(034) 4602 – 332
CTE INN

Burgos St., La Carlota

+63928-463-9242
SRA BALAY – OPSI

Brgy. La Granja, La Carlota City

(034) 702-9031/ 9020