Guide: Attractions/Tourist Spots, Maps, Cafes, Where to Stay
Don Salvador Benedicto is the "Baguio" or "Sagada of the Visayas." It's a wide geographical area with a cool climate that's like in the Cordilleras. It's shortcut name is DSB or sometimes referred to as Salvador Benedicto. 
It offers a cool, natural climate within a short distance from Bacolod City. Around 1.5 hours from the Capital and you can relax in the fresh air. 
In this blog, I'll chronicle my travel experiences, cafes, insights and tips about Don Salvador.  

(In sequential order from Bacolod)
Bacolod-Murcia Road
Pandanon Resort
Doc J's 2: D' Horizon Cafe
Kromz Payag Resort
Coffee 39
Cafe La Guada (40km)
Lions Club
Manggapuri Villas
Mountain View Resort
Lasang View
Terraza Cafe

Jomax Peak
Viewing Deck to Malatan-og Falls
Balokon Resort
Balis Cafe
Bandolon Frost Town
Salvio's Cafe

Nay Del's Resto and Resort

Toreno Resort
To San Carlos

Through Public Transport, simply go to Bacolod Ceres South Terminal at Lopez Jaena Street. Fare depends on your destination.
If you got a private car, the route is very easy. Simply use Google Maps or Waze. Or you may follow the N69 Philippine Highway Route 
The rare route is take a Murcia jeepney and look for the paradahan DSB in Murcia.
Good Coffee. Good Food. Good View.
Cafe La Guada is a road-sde cafe in Don Salvador. It offers good coffee, good view, good food. The cooks/chefs are wearing professional attire. The views are stunning. 
You can choose the seats where your group can overlook the valley and the mountains and the river. Learn more about La Guada Cafe.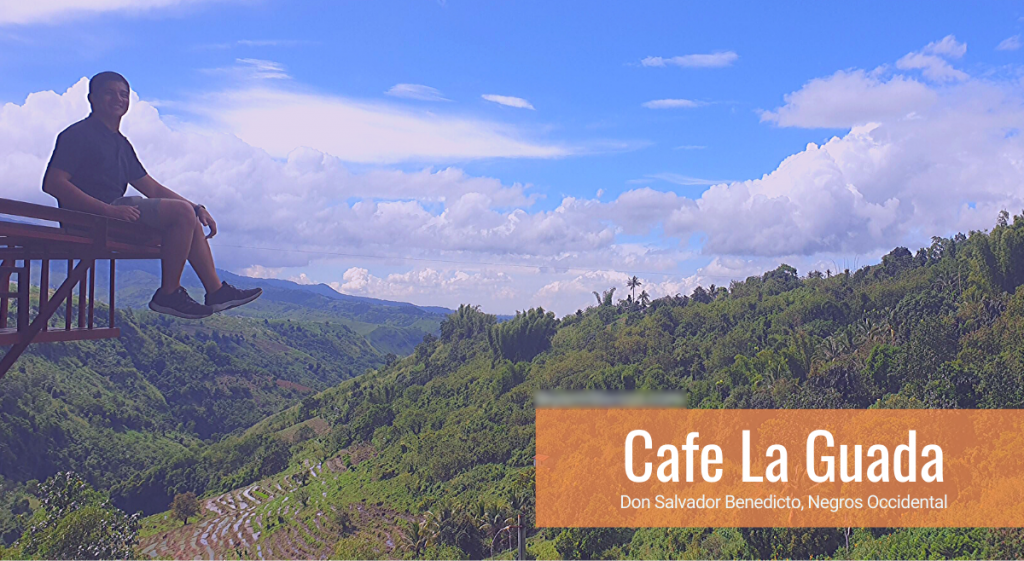 DSB Pine Trees beside the road is a private property. Thankfully, the owner is very generous and kind to allow tourists to have the pine trees experience.
You can simply go down and use the entrance. The entrance is painted red, has signages "No Parking and No Smoking." Make sure the civilian guards would allow you. Be courteous and say hi. They welcome tourists as long as the area is not reserved. 
Be mindful also if there is a prenuptial wedding photography session. The couple may be conscious if there's too much noise or destruction. 
Shots you can make at the Pine Tree Area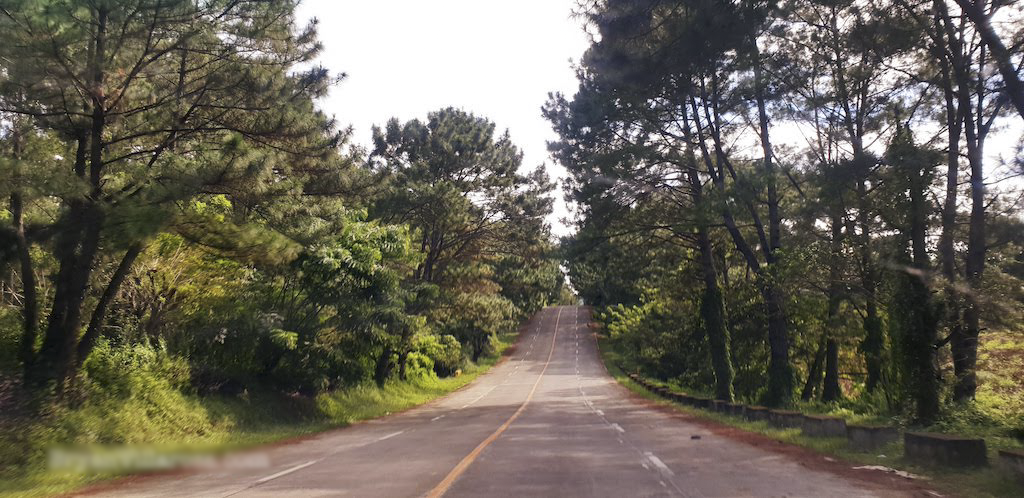 Pine Tree Lane
This road brings me down to the memory lane and reminds me of scenes I see in tv dramas.
Mural Lion
Go further inside and you'll find captivating murals. I love how the shot was taken with pine tree leaves, original Filipino alphabets and the lion mural. For me the symbolism connotes that there is greatness in the Filipino spirit an expression of that is found in DSB.
Stone Peak is one of the most searched attractions as of 2019. It offers a ranch-like atmosphere with breath-taking views of the mountain valleys. I also saw some horses.
I believe the name was taken from the composition of the primary house which is stone. And the location from which it stands- which is at the peak of a hill where you can overlook the horizon, the mountains and the plains. 
You'll enjoy a sip of coffee or a delightful snack. I saw two food areas: one is near the stone house. This one has walls of glass. The other one is on the lower portion of the slope.
Entrance Fee is P50 per head. Management clarifies that location may be slipper at times, especially when wet. And they're not liable for injuries that may occur on the location.
Overlooking SHot
You may find some better shots but the I think a good shot should capture the house and the cliff.
The Cafe is around 420 meters from the main highway. If you're taking the bus, you must be willing to walk this distance. If you're on a backpacking set-up, I don't suggest you take the toll. But rather, find a habal-habal which is not so frequent but could pass by the highway. You may consider hiring our transportation daytrip service if you want to maximize your DSB exploration.
If you got a car service, use Google maps and follow the signs on the inner road. 

DSB Lions Club gives you a 'Baguio-like' feel. In Baguio, it's just the lion's head. Here in DSB, it's full body. 
It proudly bears the saying, "When there's a need, there's a lion." If offers a platform where you can stand and take a shot with the mountains at the back. 
DSB Lions landmark can be found at the KM 42 milestone. This landmark is part of our itinerary in our DSB Day Tour Package.
KM 55 Villa, or some call as the Vacation Villa or Glass House, is one of the best places to stay in Don Salvador. 
It's surrounded with glasswalls and swimming pool. You'll enjoy the views of mountain and cool air. 
It helps you to create a perfect bond with your friends and family in one great location. 
You can easily find Vacation Villa at AirBnB.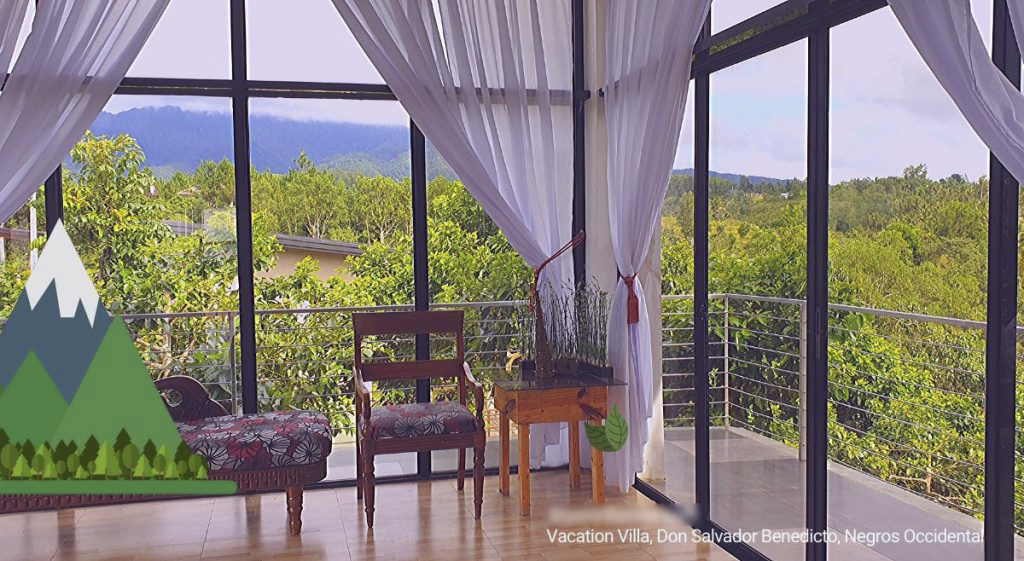 Malatan-og Falls is a majestic glory of Don Salvador. 
You've got two options to see this falls: (1) Viewing Deck for a long-range shot; and (2) For the adventurous, make around 1 hour Trek to make it close and personal.
The shots here are from TUP students.