Candoni was derived from the native phrase Kan Dune, which means belonging to Dune, a legendary beautiful maiden named Kandunay who committed suicide after being forced by her parents to marry a man she did not love. Candoni is also known as Tabla Valley. 
Formerly a barrio of the Municipality of Cauayan, Candoni started as the center of the Tabla Valley Settlement founded in 1935 by Santiago H. Diego, a prominent man from the Municipality of Isabela. He led a group of settlers with a pioneering spirit and prompted by the desire to have a piece of land they could call their own. Pooling their resources and organizing themselves into a cooperative they called Tableños, the settlers started clearing the valley starting from where the town is now located. They toiled the forests enduring hardships, but many of them died of malaria. 
Their efforts were noticed by the Provincial Government who supported them, starting with Gov. Emilio Gaston to Gov. Valenciano Gatuslao, who along with then Speaker Gil Montilla, helped them appeal to President Manuel Roxas in Malacanang for tangible government aid, which came in the form of the road from Dancalan, Ilog to Candoni, following the trail blazed by the Tableños. 
Candoni was finally declared a municipality on August 22, 1958 through Executive Order No. 314 signed by President Carlos P. Garcia. It was inaugurated on August 12, 1961, with Benjamin R. Nava as its first acting mayor. 
Recent history of Candoni again showed its people's struggle, this time, against the turmoil brought about by the insurgency problem. Fed up with being caught in the crossfire of battles between rebels and government forces, the people of Sitio Cantomanyog in Brgy. Haba of the town declared their area as a "Zone of Peace", the first in the country ever to be declared as such by the residents composed of some 40 families, and this policy is respected by both rebels and government troops.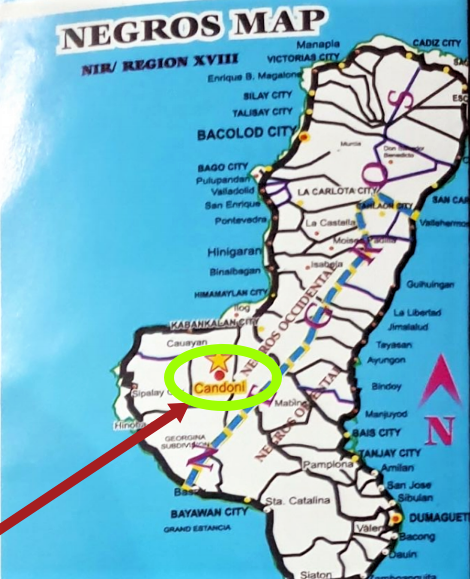 Candoni is located in the hinterland village of southern Negros Occidental. It is approximately a three-and-a-half hour drive from Bacolod City aboard a public utility vehicle and about two hours and 45 minutes on a private car. 
From Bacolod City, buses are available at Bacolod South Terminal. From Kabankalan City, one may take the public utility buses or jeepneys going to this town. All roads leading to this town are fully concreted. 
Tricycles are available at the poblacion going to outlying lowland barangays such Caningay Haba, Banga and Payauan. Habal-habal are the most common mode of transportation going to remote barangays and sitios.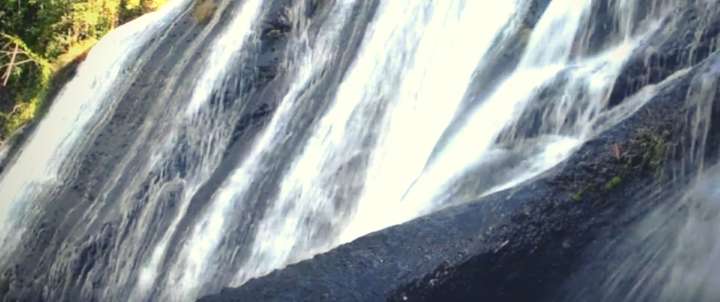 Experience habal-habal ride and visit the enchanting waterfalls of Hinarap in Sitio Bali, Brgy. Agboy.

Visit the iconic and most peaceful community in Sitio Cantomanyog Zone of Peace, Brgy. Haba.

Learn how to make quality and durable brooms from the people of Sitio Cogon, Brgy. Gatuslao.

Eat all-you-can at Candoni Pineapple Farm and cool down at Bagatban Falls, Sitio Bagatban, Brgy. Gatuslao.

Enjoy and eat with townsfolk in our barangay fiestas.

Prepare yourself for a zigzag road and see the amazing vista. 

Wake up with a foggy morning and naturally refreshing air and relax in our tranquil village.

Sip your way through Candoni's local and native coffee shops.

Climb at Mount Tahutay or ride through Kennington Hill to see the amazing and breathtaking panoramic view of the Tabla Valley.

Explore our hidden beauty kept in our caves such as Twin Cave, Sit-an Cave and other unnamed caves.
TOURISM INFORMATION OFFICE

Candoni Tourism Pavilion, located in front of the Municipal Plaza
Telephone: (034) 702-2730
Mobile: +63-995-284-6347
+63-917-837-9553 +63-915-053-8283
Email: tourism.candoni@gmail.com
Nibbles Snack Haus and Restaurant
Rizal St., Brgy. East, Candoni

Negros Occidental 6110 

Mobile: +63-928-878-5601
Londres Pizzalicious and Snack House
Pajarillo St., Brgy. East, Candoni

Negros Occidental 6110 

Mobile: +63-921-748-0820
Q.G. Manzano St. cor. R. Delos Santos St.,

Brgy. East, Candoni Negros Occidental, 6110 

Mobile: +63-907-445-8451
Candoni's treasured culture often reflects in town and barangay fiestas where townsfolk whether rich or poor always prepare for year's harvest and offer abundant food as they open their houses to friends, neighbors and even to strangers.
January 28-30 Barangay Cabia-an Fiesta

April 3-5 Barangay Caningay Fiesta 

February 7-11 Dinagyaw sa Tablas 

Feast of Our Lady of Lourdes

April 4-5  Sitio Cantomanyog Fiesta 

May 13-15 Barangay Payauan Fiesta

February 16 Declaration Day of Sitio Cantomanyog Zone of Peace

May 31 May Flower Festival, Brgy. East

March 17-19 Barangay Banga Fiesta

March 20-22 Barangay Agboy Fiesta

August 12 Town Anniversary

December (3rd Saturday) Pabahulay sa Barangay West

March 23-25 Barangay Gatuslao Fiesta 

March 29-31 Barangay Haba Fiesta

December 16 Kiay-Kiay sa Barangay East
Q.G. Manzano St., Brgy. East, Candoni

Negros Occidental, 6110 

Owner: Jenda P. Bagona 

Telephone: (034) 213-0108 

Mobile: +63-939-905-9596 

E-mail:

jpbagona28@gmail.com
Municipal Tourism Cottage
Rizal St., Brgy. East, Candoni

Negros Occidental, 6110 

Telephone: (034) 702-2730

 Mobile: +63-995-284-6347

+63-917-837-9553 

Email:

tourism.candoni@gmail.com
Distance from Bacolod : 131 kilometers

Classification : 4th Class Municipality

Land Area : 19,170 hectares

Number of Barangays : 9

Population as of 2015:  21,789

Language/Dialect : Hiligaynon is widely spoken. Cebuano, Filipino and English are also used in business transactions
Candoni Official Tourism brochure taken from the Department of Tourism, Airports, and Panaad festival.