Two Regis will offer units ranging from Studio (up to 31.5 square meters); Executive Studio (up to 37.5 square meters); One-Bedroom (up to 43.5 square meters) and Two-Bedroom (up to 87 square meters). Several available units have will their own balcony, overlooking the transforming landscapes of the township.
Aside from the Skygardens, Two Regis will be highlighted by first-class amenities at the 2nd level such as a lap pool, kiddie pool, fitness center, daycare center, and function rooms. 
Each unit will have a semi-firnished kitchen, with modular overhead and under-counter cabinets, and its own electric burner cooktop with range hood.
A key feature of the residential tower will be the three Skygardens, two of which are located on the 12th level, also known as the Lower Sky Suites Floor, and one at the center of the 8th level, also known as the Garden Suites Floor. The penthouse floor, also known as the Upper Sky Suites Floor, will offer units in varying size options, with unparalleled views of the sunrise from the Negros Mountain Ranges and the sunset along Guimaras Strait.
Two Regis will be located inside the 34 hectare township community development, Upper East. It will be Bacolod's own version of an upscale lifestyle district integrated to create an exciting LIVE-WORK-PLAY township, which Megaworld pioneered in the Philippines.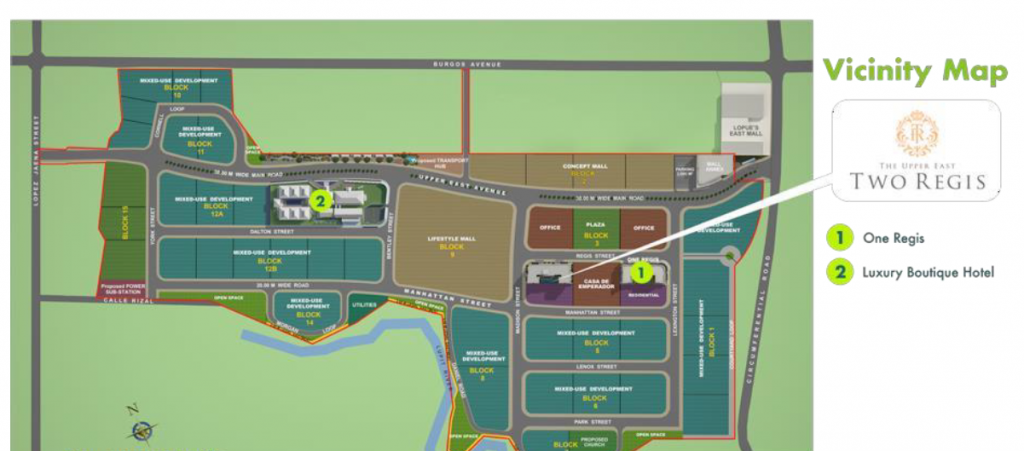 Total Land Area
2,296 sqm.
Total Saleable Area
10,374 sqm.
Number of Units
310 units
Number of Levels
14 Levels
Residential Levels 11 Floors (no 4th&13 floor)