Sugar Beach is a 1.1km strip of sugary light brown sand in the northern part of Sipalay City where you can enjoy relaxation and creation.
The first thing that captured me was the serenity brought by the secludedness of Sugar Beach. If you are a sort of introvert like me, will enjoy by the peaceful environment. Rest and recharge is the overarching theme here.
My timing was not that ideal, it was June 2019 when I visited this place. I just want to escape the concrete walls of Bacolod for the meantime. But, I still was able to enjoy Sugar Beach's spectacular beach despite the cloudy weather. 
Sugar Beach is located at Barangay Nauhang, in the northern part of Sipalay City. Travel time via private vehicle is around 20 minutes.
The illustration given by Google Maps as of June 2019 is not ideal as it doesn't show you the best one. 
I've read a top blog saying that it's challenging to get there. And yes, indeed. Google Maps gave a confusing direction.
My boatman and local folks living in Sugar Beach also said that many people get lost because of Google Maps. So here's my attempt to direct you briefly.
Caution! Don't follow Google Map's Direction
July 2021 Update: New Bridge
As of June 2019, Google Maps will give you this direction below. Don't follow it. It's a bad way and wrong way. 
From point 6 to point 5, it's a downhill and rocky road- wrong way. It will be a dead end, you will have to turn back. And slippery when raining! 
I think one reason for this is that Google's satellite has not yet penetrated the Sugar Beach area.
Legend:
Sipalay Poblacion
This is the correct way. From Poblacion, the road at the left after the New Government Center is where you should turn.
New Sipalay Government Center
Road's Dead End (as of June 2019) and the mouth of the river. Options to Take (a) Pumpboat via the sea (P300 per trip) (b) Small boat to make you cross to via the river. Then you walk to your resort (P20 per pax)
Sugar Beach
Wrong Turn. If you follow the blue line from #6, that leads to a dead end. I went through downhill, bumpy and rough roads. Plus, it was raining! So my wheels almost got stuck! Good thing, the very few locals I passed by, gave me the redirections.
The Correct Way to Sugar Beach
From Sipalay
To get there, enter the road with Gil Montilla Building beside the New Sipalay Government Center going towards the beach. If you are from Sipalay proper, turn left.

From Bacolod/Cauayan
Turn right after you've passed over the road going to Sipalay airport if you are on a car. For commute, there are tricycles going to and from Sugar Beach area which you can negotiate from P10 to P30 pesos depending on the number of passengers.
From Sipalay Airport
Cebu to Sipalay Trips v.v. via Plane are on Wednesdays & Sundays. Iloilo to Sipalay and v.v. are on Mondays & Thursdays.
From the New Sipalay airport to the Highway/Government Center is 3.77 km. Turn to Gil Montilla street to the beach.
Parking Spaces at the Dead End Road
Tourist spots are quite distant from each other in Sipalay, so a car lets you enjoy mobility. Park your vehicle at point #4 in Map 2. 
This is the dead end
 of the road development as of June 2019. The government of Sipalay is rushing efforts to finish this road and maybe, a bridge to Sugar Beach. It's a dilemma, since the bridge would make the area crowded and lose its secludedness. The river mouth
separates
Sugar Beach from the main land.
2 Options to Cross to Sugar Beach from the Dead End Road / Brgy. Nauhang
1.) I opted to rent the P300 per trip boat ride to Sugar Beach so I can oblige or request the boat man and his team to watch the car for the night.
2.) Cross the river mouth via a smaller boat. P10 to P20 per ride per pax. Then walk from across the river to Sugar Beach where you want to stay.
The city is also increasing their efforts to promote tourism of the area, so I am sure security measures shall become better through time.
You can also talk to the owner of the store and ask her to watch your car for you. Don't forget to give some tip. I saw around 10 cars parked here.
All of the resorts in Sugar Beach are just arranged side by side. They face the same beach and you can just walk passed by each one. 
If you walk from the river, this is the first inn to approach you on the Sugar Beach. Their tagline "the most unusual resort in the Philippines" is spectucalarly true. 
Cleanliness and disctinctiveness is a major theme. The front beach is relaxing.
The things I like about Big Bamboo are the good food and affordable rates. 
The tagalog bistek by their in-house cook just tastes so well. The owner was also there and was very accommodating.
You stay at a nipa-based accommodation with mosquito net, a good bathroom and a safe box. Design is well-planned.
This concept-driven resort offers kayaking. You would enjoy relaxing on their beach benches or swing. 
A group soccer table is also available for barkada fun.
Owners: Peter and Daisy Ganz
6113 Philippines
+63-920-900-3663
+63-919-236-7055
driftwoodvillage@mail.com
driftwood-village.com
Green Garden Beach Resort
Buenaventura Beach Resort
First beach I read from a blog, and it was the first beach I intended to stay to when I arrived. The road going here is via the small pathwalk beside Big Bamboo Resort. I visited here in the morning but found out it seems closed. Here are their rates.
Get up to ₱20,600 towards your first trip. With one-of-a-kind homes and experiences, Airbnb is a great way to travel. When you sign up, you'll get 10% off your first home booking — that's up to ₱20,000 off. And you get ₱600 to use toward an experience of ₱2,310 or more. Coupons expire one year from date of sign up.
Located at the north-end of sugar beach. Offers unique panorama rooms with aircon. Native style rooms with fan & shared kitchen at fair rates.
09084298413
09986170688
sugarrocks.musicbar@gmail.com
Cozy, Warm & Friendly 
Jamont Hotel's management and staff always take great pride and care in making certain that our valued guests' hotel stay or visit is a pleasant and unforgettable one. We want our guests to feel right at home and get the relaxation they seek from our cozy, warm and friendly hotel. With 52 clean, luxurious, spacious and affordable rooms, Jamont Hotel's variety of rooms and amenities can satisfy any guests' needs. We have a wide range of room choices… single, double, junior, family, standard and executive suites as well as extra-large barkada rooms. Come…stay with us in our charming beachside escape. 
Sun, Wind &  Water 
Jamont Hotel is centrally nestled in the captivating city of Sipalay where the majesty of unspoiled nature abounds with beaches, islets, coves, coral gardens, caves and dive sites all beckoning to the outdoor and adventure worshippers. The hotel itself has an alluring garden pool and beachfront. Guests can either opt to go out on an outdoor adventure or just leisurely choose to bask by the poolside or beachfront with all of nature's glory and with hotel service just an order away. Special functions and events may also be arranged for the poolside area.
Outdoors, Fun & Adventure 
With all of nature's unspoiled beauty abounding Sipalay, adventurous hotel guests have several activity options to choose from: diving, snorkeling, island hopping, exploring coves and caves, or guests could opt to venture out on Jamont Hotel's unique glass-bottom boat or city tour bus. Our glass-bottom boat offers guests a fascinating glimpse into the unmatched marine biodiversity of the area's coral gardens, while staying comfortable and dry, while our city tour bus will give guests an insight into the rich culture, heritage and history of the Sipalay area… all aboard!! 
Jamont Hotel can now offer guests and other interested travellers direct flights via private aircraft (6 seater) to and from El Nido (Palawan), Caticlan (Boracay), Dumaguete and other destinations. Please refer to our contact information for bookings.
Wine, Dine & Celebrate La Veranda
A stunning, uncluttered view of the picturesque garden side pool beach and sea, not to mention our captivating sunsets, coupled with La Veranda's variety and savory offerings of Filipino and Continental dishes fashioned out by our seasoned local cooks is certain to satisfy our guests culinary taste. La Veranda's inviting and spacious layout (up to 300 guests) likewise lends well to hosting a variety of events and function room offerings to include weddings, birthdays, anniversaries, seminars, meetings, office parties, etc. We, at Jamont Hotel, enthusiastically look forward to making your special day and event a very memorable experience.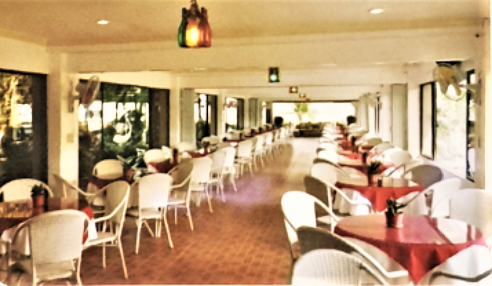 Who, What & Where 
Jamont Hotel eagerly awaits our valued guests and visitors with open arms. We can't wait to spoil you in our charming "home away from home" and proudly show off our pristine beaches, coral gardens, enchanting islets and coves, unmatched dive sites, waterfalls, caves and unspoiled city.Sipalay. We are just a leisurely and scenic 3 to 4 hour ride by car from Bacolod or Dumaguete… perhaps just a bit longer by bus. Come and let Jamont Hotel make your visit a comfortable, fun-filled and memorable stay. For reservations or more detailed information, please refer to our contact numbers, email and websites below. 
Mercedes Boulevard, Barangay 1, Sipalay City,                                                   

Negros Occidental, Philippines Call us: +63 34 473-0350 +63 9196030045 

Email us: jamonthotel@gmail.com 

Website: www.iamonthotelsipalay.com Facebook Page: https://www.facebook.com/Jamont Hotel/ Twitter/Instagram: @SipalayJamont
Very important: Mosquito repellant such as "Off Lotion". Had around 8 mosquito bites coz I forgot to apply. Driftwood sells it also.
Clothes good including swimming clothes
Bag for wet clothes
Cellphone
Cellphone Charger
Power Bank
Camera
Food and Drinks for snacks of your preference for the trip
Supplements and any first aid or ongoing medication for anyone with a medical condition
Sun Protection: Sun Block, Hat, Sunglasses
Flash light
Pocket Money