Negros Island was originally called "Buglas", an old native word that is thought to mean "to cut off".
It is believed that Negros was once part of a greater mass of land but was cut off either by what geologists call a continental drift or by the rising of waters during the so-called glacial age.
Among its earliest inhabitants were dark-skinned natives belonging to the Negrito ethnic group with their unique culture.
Thus, the Spaniards called the land "Negros" after the black natives whom they saw when they first came to the island in April 1565. More history here.
How we became the Sugar Capital of the Philippines
The major boom to the province at the latter half of the 19th century was the widespread cultivation of sugarcane introduced by the Spaniards and the opening of ports like those in Iloilo and Cebu to foreign commerce- just the like the prosperity of this Internet Age & Digital Age through the opening up of BPO's. 
In 1856, Negros Occidental produced only 4,000 piculs of sugar. This increased to 100,000 piculs in 1864 and 2,000,000 in 1893. 
The cultivation of sugarcane then became widespread and soon after Negros Occidental led other provinces in the production of sugar. 
Modern machines were also introduced at this time and by 1864, seven machines operated by steam were used in the towns of Bacolod, Minuluan (Talisay) and Bago. 
Capital: Bacolod City
Population: 2.9 Million
Land Area: 792,607hectares or 7,926 square kilometers
Boundaries:
North- Visayan Sea
East- Negros Oriental
South – Sulu Sea
West – Guimaras Strait
Industries:
Sugar, Rice, Organic Agricultural Crops, Livestock, Marine Products, Furniture, Handicrafts, Garments, and Processed Foods.
Things to Do / Experience /
Visit in Negros Occidental
Distances of Southern towns from each other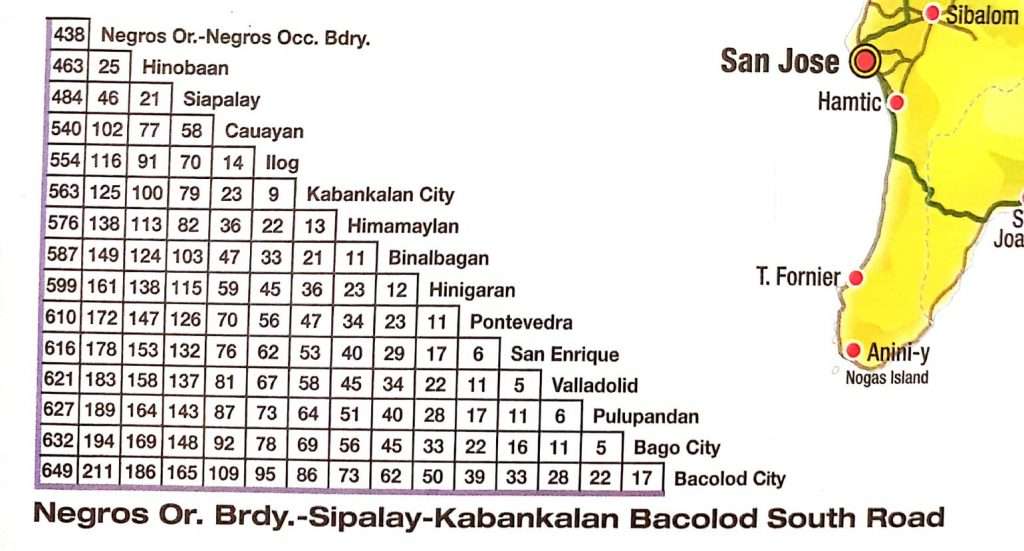 Balay Negrense
Balaring Mangrove Eco-Park
Fresh Start Organic Farm
Hofileña Heritage House
Silay  Outdoor Recreation & Ecotourism Area (Patag)
San Diego Pro-Cathedral
Steam Locomotive at Hawaiian Philippine Company
Bernardino-Jalandoni Museum (Pink House)
Balay ni Tana Dicang
Melba's Farm
Nature's Village Resort &  Hotel
Guerrero Farm and Nature Park
Gawahon Eco-Park
Peñalosa Farms
Church of St. Joseph the Worker
Victorias Golf & Country Club
Chapel of the Cartwheels
Northland Resort Hotel
Dried Fish Industry
Little Jungle Resort
Hellos Solar Energy Corporation Solar Farm
Bunga Rice Terraces
Malatan-og Falls
Pine Tree-lined Highway
Rapha Valley Place of Wellness (Organic Farm)
The Provincial Capitol Negros Forest & Ecological Foundation, Biodiversity Conservation Center
Dizon-Ramos Museum (Now White Hotel)
Negros Museum
Negros Occidental Gold &  Country Club
Association of Negros Producers (ANP Showroom)
Negros Farmers Weekend Market
Panaad Park & Stadium
The Forest Park
Bantug Lake Ranch
Palmas Del Mar Resort & Hotel
The Vintage Glasses Museum
Balay ni Tan Juan
Kipot Twin Falls
Bantayan Park
OISCA Silk Farm
Bueños Aires Mountain Resort
Cinco de Noviembre Marker
Rafael Salas Park &  Nature Center
Behold the Majesty of Mt Kanla-on
Negros is an island borne of a volcano, making most parts of the land as fertile. Take an adventure up to the crater via the Guintubdan Trail in La Carlota City. Make sure to secure the necessary permits and guides.
Fly Back in Time by Visiting the Ancestral Houses in Silay
Be Healed by Dipping in the Relaxing Sulfur Springs of Mambukal Resort
Ease the stress of your city life by unwinding in the healers of nature- the hotsprings of Mambukal. You can relax as you breathe the fresh air. Try climbing and seeing the falls. Another thing that makes Mambukal enjoyable is the affordability of it.
Revisit History by Dropping by at the Ruins Mansion in Talisay City
White Sand Beaches and Dive Sites in Sipalay
Snorkel at Carbin Reef Marine Reserve in Sagay City
Enjoy the untouched nature in Danjugan Island Marine Reserve in Cauayan Municipality
18-hole Golf Course in Victorias City
See all Negros Occidental Cities and Municipalities Converge during Panaad Festival (2nd Week of April)
Rapha Valley in Don Salvador Benedicto
Penalosa Farm in Victorias City
May's Organic Garden in Bacolod City
Department of Tourism of Negros Occidental
Tel: (+63 34) 433-2515
Email: tourism_negocc@yahoo.com
Website: tourism.negros-occ.gov.ph