1.) Bacolod as the Top Model City by the Manila Times last 2017
2.) Most Business-friendly Local Government Unit by the Philippine Chamber of Commerce and Industry
3.) Bacolod as Top Competitive LGU in Visayas – August 2018
Bacolod is the number one most competitive in the visayas during the 6th Regional Competitiveness Summit held at the Philippine International Convention Center in Manila on Thursday, August 16. This ranking was announced by the National Competitiveness Council (NCC).
At the national level, Bacolod top 3 most improved Local Government Units in the Highly-Urbanized Category.
Bacolod moved from top 20 last year to top 8 this year in the overall most competitive HUCs list.
Bacolod is most business-friendly LGU in the Philippines awarded by Philippine Chamber of Commerce and Industry (PCCI), the biggest business chamber in the country. Bacolod bested Iloilo City, CDO, Davao City, Mandaue City, Angeles City, and more. Bacolod has been a consistent national finalist in the last 4 years.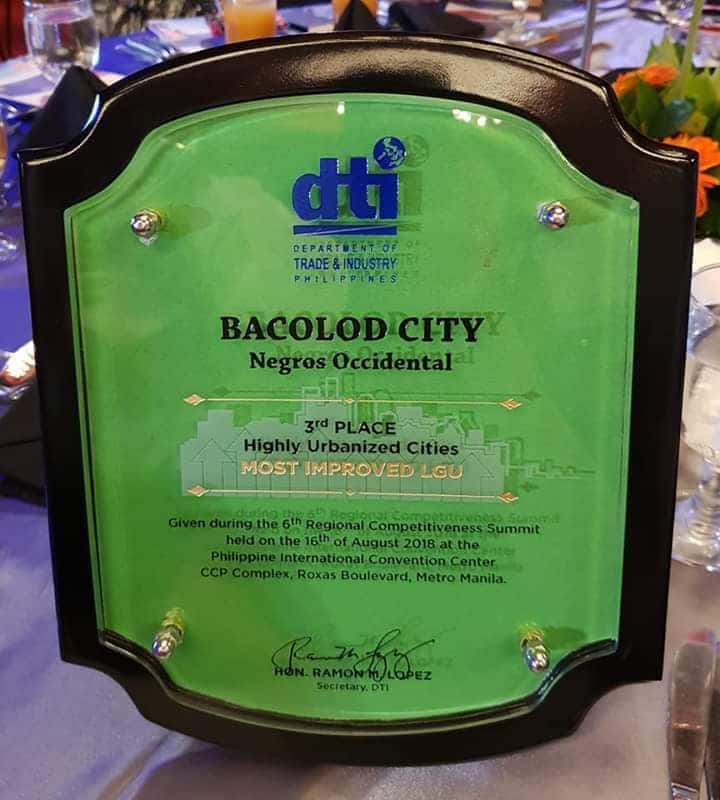 • Top Philippine Model City- Beyond the Most Livable Urban Centers
• Most Business- Friendly LGU Outside Metro Manila Special Citation by Philippine Chamber of Commerce and Industry
• Bacolod City is one the 5 cities in the Philippines that are included in the Tholons List of Top 100 Super Cities" in 2017
• 1st Regional Development Council- Recognition Ceremony for Competitive LGUs #1- Resiliency
#3- Insfrastructure
#3- Economic Dynamism
#2- Most Competitive in All Cities in.the Region
Bacolod is the number one most competitive in the visayas, followed by Cebu city- top 9. Mayor Evelio Leonardia received the award and said that this is a big inspiration for Bacolod City and a big encouragement for his administration to do more.
Other cities in the Top 10 most competitive HUCs are: 1 — Quezon; 2 — Manila; 3 — Pasay; 4 — Davao; 5 — Cagayan de Oro; 6 — Makati; 7– Pasig; (8 Bacolod; 9 Cebu) and 10 — Muntinlupa.
The ranking was based on the sum of the scores in the "Four Pillars" — Economic Dynamism, Government Efficiency, Infrastructure, and Resiliency.
In the 2018 ranking, Bacolod improved in all four pillars from its 2017 ranking: Economic Dynamism, from No. 20 to No. 9; Government Efficiency, No. 22 to No. 15; Infrastructure, No. 15 to No. 6; and Resiliency, No. 19 to No. 10.
Enhanced Sectoral Competitiveness
Fast-Tracked Local Economic Development (LED)