Brand New Commercial Building for Rent in Circumferential Road, Bacolod City
Location: Circumferential Road, near Lopues East and Upper East, Bacolod City. It is along the main road.
The building has its backup generator set, elevator, and basement parking.
Lease Type: Monthly lease open for long-term
3 months deposit, 2 Months advance the rest is PDC
below are site photos as of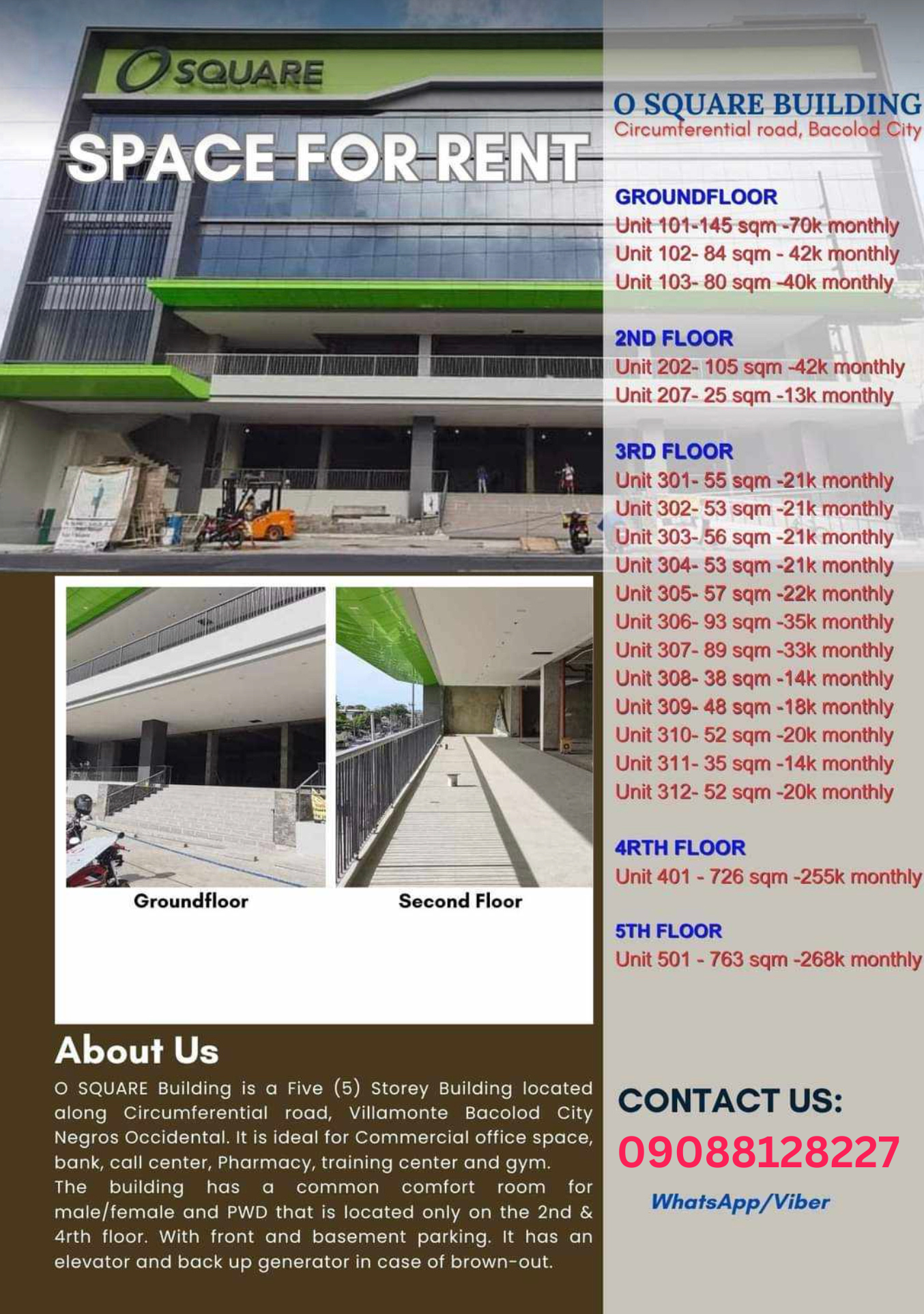 Common areas hallway, elevator, security, CR and basement will be managed by the owner. This building doesn't have CUSA at the moment. FYI, most of the buildings they don't impose CUSA this time. Any changes about it will be announced ahead of time.
Please note that O Square has a High Ceiling, basement Parking, and an elevator.
is the space ready to be occupied?
For now it's on the process of completion but you may move-in around March 2023
comfort room/ toilet
FYI: The common Confort room for Male/ Female is located only at 2nd & 4th floor. But if you're planning to have your own inside the unit. Just put it on your floor plan design for approval
units upon turn-over
Its a bare shell unit sir. So there's no issue with office fitment
maintenance
Electricity & Water will be shouldered by the lessee. But maintenance and security of the building will be manage by the Lessor
connections
By the way, for telephone service providers for office landline phones and internet providers, which are the ones available in the area of O Square that we can consider getting?
Network connections are available in Bacolod but the work of applying for connection that would be under the lessee.
proposal
we can generate draft proposals for potential lessees.
Commercial Spaces for Rent inside a 4-Storey Building
-IDEAL FOR: CALL CENTER, HEALTH CLINIC, DENTAL CLINIC, LAW OFFICE, REVIEW CENTER and GOV'T OR CORPORATE OFFICE.
210 per SQ.M/FLOOR
180M AWAY FROM LIBERTAD MARKET
650M AWAY FROM UNO-R
NEAR BDO, LANDBANK AND PNB
1.2KM AWAY FROM DOWNTOWN AREA
550M AWAY FROM CERES SOUTH
TERMINAL
W| Standby Generator Set
W/ Parking Space
W| Automatic Fire Alarm System & Sprinklers
LOCATION: BRGY 33, (LIBERTAD) BACOLOD CITY,NEGROS OCCIDENTAL
CONTACT #09088128227
For final reservation, prospects are required to submit a letter of intent.