Robinsons Brighton's location in Mandalagan-Circumferential is strategic because it puts you in a few minutes distance to the following:
Rockwell Business Center (P100M+ per 1000sqm as of 2022)
Nara Residences
Forbes Hill and Northill Gateway
Queen of Mercy Hospital (soon)
Access Roads to C1 and C2 (Airport Road, Granada, Sum-ag)
Few minutes to Lacson via the Cordova Buri Road, Citi Mall, Lopues Manda, Citadines, and Robinsons Mall. 
The lots at the left side have just been opened last August 1, 2022. Be the first to get the best spot now. 
In the image below, the blue ones are available for sale, the orange ones are on hold, and the light yellow ones are sold. 
At the south portion is an area for future development. 
As of Sept 2022, the entrance on the left side is closed, and only the one at the right side is open. (See the one with the black rotonda at the lower right). The entrance facing the left side or La Herencia Subd will open as soon as the lots are sold and the perimeter road is finished, giving you access to Circumferential Road.
Theme: Contemporary Mediterannean
Basic Deed of Restrictions for House Construction:
Minimum house construction cost: 4M php
Contemporary Mediterranean style house design; you may your own design such as minimalist as long as there is a flare of Mediterranean design and has approval by Brighton.
Max of 2 storeys high, max of 9m in height
Livable Floor Area: min. of 100 sqm.
Setback:
a. Front – minimum of 3m
b. Sides & Back – minimum of 2m
Fence:
a. Front: max of 1.6m height (concrete part max of.6m
only as the house must be visible from the street)
b. Sides and Back – max of 2m height.
Gate and Guardhouse
Swimming Pool
Village Clubhouse
Parks and Play Area
Entry Marker
Activity Court
Picnic Grove
Gazebo
Situated in Brgy. Estefania, Bacolod City, Negros Island, Brighton Bacolod is 6.8KM away from town proper and a short commute from prestigious schools, malls, hospitals and other business establishments
This 22.40-hectare development is accessible via Buri Road (Cordova) to Lacson Street and the Circumferential Road to Burgos Avenue and The New Government Center.
What are the transportation means to Brighton?
Primarily, private vehicles. Then taxi cab.
But there are tricycle cabs from Citi Mall Mandalagan or from Lopues East area. 
What are the transportation means to Brighton?
Spot cash
Deferred cash
Bank financing
PAGIBIG financing
What if you are living or working abroad?
All the reservation documents can be fill-out and signed digitally except the SPA. 
I will email you the SPA, you will print in 6 copies, and mail to me as your agent.
What are the reservation requirements?
(1) Valid IDs
Your Valid IDs
and your spouses' (if married)
(2) TIN ID. If no TIN ID, Verified TIN from the BIR. I can assist you as your agent.
(3) Completely fill out the following documents either online or on paper at the office:
A.1 – Completely filled-out Buyer's information Sheet (BIS) – spouse must also sign here
A.2 – Buyer's Reservation Application – spouse must also sign here
Computation Sheet – spouse must also sign here
A. 4 – HOA (Homeowners' Association BIS)
A.5 – Buyer's undertaking
(4) SPA 
A.6 – Special Power of Attorney (only applicable if buyer is not in Bacolod City)
If abroad, must be printed in 6 copies, signed, and mailed.
(5) Pay reservation fee through:
Deposit to Corporation's Bank Account
Online Bank Transfer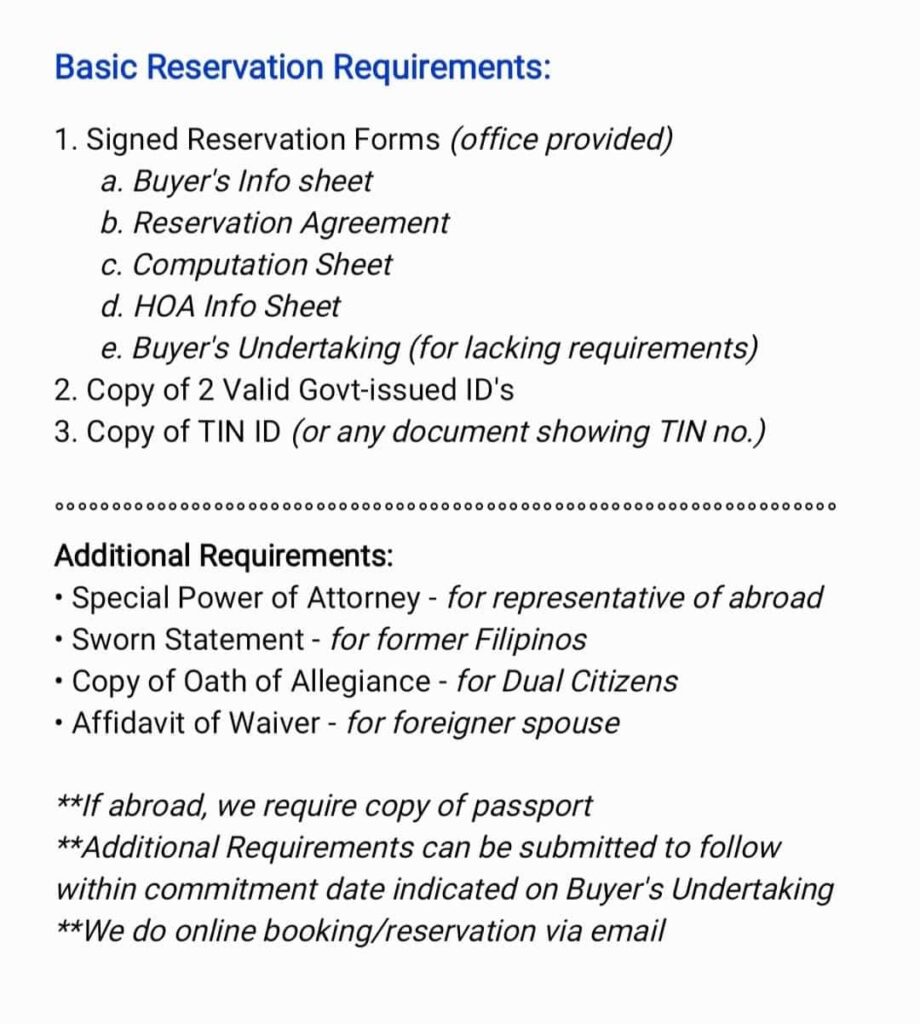 To follow after reservation
Signed contracts (by buyer or through SPA)
Marriage contract if married and other requirements to be given by the welcome email
Verified TIN of both spouses, or the buyer only if single
Yes but you must contact me first as your agent, and you cannot enter without a CAR PASS.